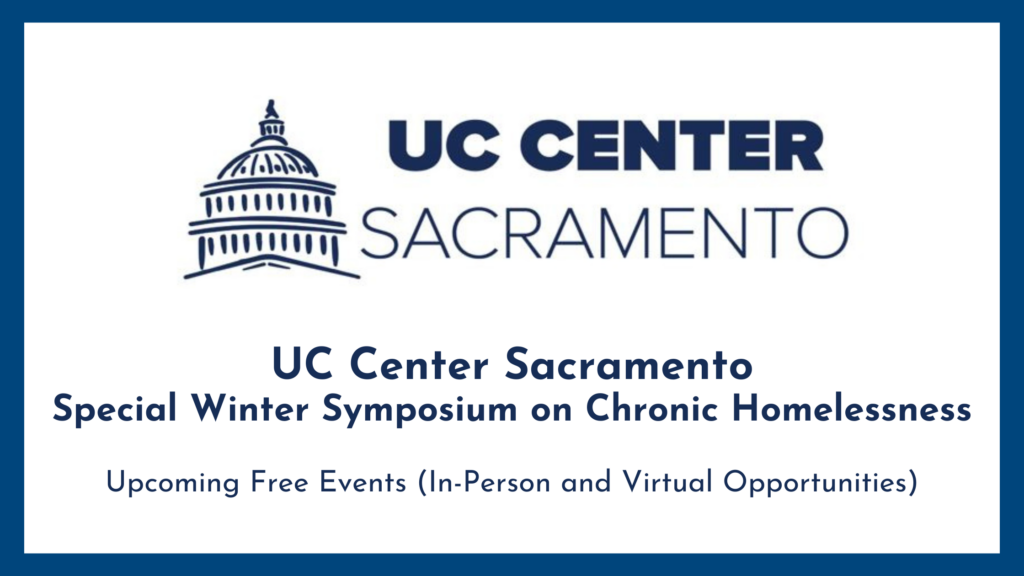 The UC Center Sacramento is kicking off 2023 with Special Winter Symposiums on chronic homelessness. Check out these upcoming free insightful events:
Addressing Mental Health and Neurocognitive Dysfunction in Chronic Homelessness
January 18 | 12 pm – 1 pm PT | In-Person and Virtual Opportunities
Mental and cognitive health are paramount for sustaining income and independent functioning. This presentation will describe the types, rates, and implications of cognitive and psychiatric impairment in adults who are chronically homeless. Dr. Elizabeth Twamley, neuropsychologist and Professor of Psychiatry at UC San Diego, will share multiple risk factors for cognitive and psychiatric impairment and recommendations to secure income and reduce homelessness.
---
The Other Revolving Door: From Emergency Department to the Streets and Back Again
February 1 | 12 pm – 1:45 pm PT | In-Person and Virtual Opportunities
In California as in the US as a whole, a large proportion of chronically homeless individuals suffer from a serious mental health condition, drug addiction, or both. Much has been written about the revolving door between the corrections system and the streets, but there is another revolving door: the one connecting the streets to the health care system, especially hospital emergency departments. Dr. Aimee Moulin, Professor of Emergency Medicine at UC Davis Health and Mayor Darrell Steinberg, the 56th Mayor of Sacramento, will discuss the nature, origins, and possible solutions to this "other revolving door."
---
Structural Solutions For a Structural Problem: Drawing on Innovations and Best Practices on Homelessness
February 8 | 12 pm – 1 pm PT | In-Person and Virtual Opportunities
This talk will frame homelessness as a structural problem, caused by inequitable laws, institutions, and socioeconomic forces. Dr. Enrico Castillo will highlight the limitations of mental health services to address homelessness and the pitfalls of failing to recognize these limits, as well as domestic and international best practices that address the upstream causes of homelessness.
---
Seeking Solutions to Chronic Homelessness: A Panel Discussion
February 15 | 12 pm – 1:30 pm PT | In-Person and Virtual Opportunities
In this final installment of the UCCS Winter Symposium on Chronic Homelessness, an academic expert and two public policymakers will explore ways in which California is beginning to address the problem of the chronically unsheltered homeless, what barriers remain, and how innovative solutions might restore some of the sheen to California's golden reputation.