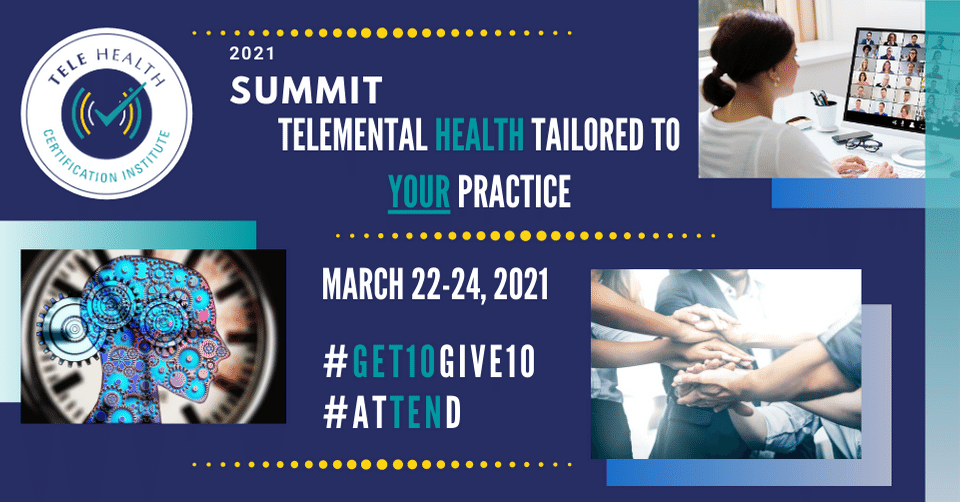 The Telehealth Certification Institute has trained over 20,000+ clinicians since 2014, and we look forward to bringing this experience to the 2021 Summit. We are excited to deliver a massive, 3-day conference program packed with expansive and immersive learning opportunities. A few highlights include…
A global cohort of healthcare professionals representing numerous healthcare disciplines.
Speakers who are ready to engage with you via Q&A post-session conversations.
Knowledgeable session leaders with vast and varied professional backgrounds.
You can earn up to 15 CE hours if you attend the full Summit.
Here is a small sampling of speakers for the 2021 event:
Dr. Elizabeth Krupinski, a professor and Vice-Chair for Research at Emory University in the Departments of Radiology and Imaging Sciences.
Mark A. Stebnicki, Professor Emeritus and former Coordinator of the Military and Trauma Counseling (MTC) Certificate Program developed in 2015 for East Carolina University.
Sarah Scott Dooling, a Licensed Clinical Social Worker and a Registered Play Therapist, teaches graduate-level classes at two San Diego universities. Sarah also facilitates creative, interactive professional development workshops for clinicians and educators.
The full instructor roster can be found on our landing page, so you can get to know your presenters before the Summit begins. You can also view a testimonial video from a 2020 Summit attendee who explains what she gained from last year's Summit.
***
You can attend the Pre-Summit event on March 22nd (10:30 AM to 7 PM) at no cost to you and earn up to 6 CE hours. Registration for the full event is not required to attend the Pre-Summit.
Two Pre-Summit sessions are presented by Margaret Wehrenberg, Psy.D., who is a clinical psychologist, author, and international trainer. She will present the Treating Anxiety in the Aftermath of COVID and Managing Depression: Raising Energy, Improving Cognition sessions on March 22nd.
If you register now for the full Summit using the coupon code GIVE10, you'll get 10% off the full Summit fee—$10 will be donated to the American Foundation for Suicide Prevention.
***
If you're excited about the Summit, please consider passing along the details to other colleagues in your professional network. We want to make this event accessible to as many healthcare professionals as possible!
Visit our Summit sponsors page! 
To see all the different options to register for this conference, please click here!
NASW-CA is proud to be a sponsor of this upcoming summit!