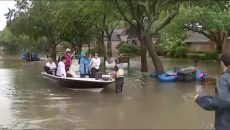 HOUSTON — Amid the manic energy felt by those seeking shelter at the George R. Brown Convention Center here, there are clues that the damages wrought by Hurricane Harvey amount to more than what can be listed on insurance forms.
"Need to talk?" ask signs posted along walls in the airy center that is currently home to hordes of exhausted survivors. Volunteers also walk around holding the signs, stopping to speak with people when hailed.
Those three words are a cue to the survivors, many of whom have lost all their worldly goods, that there's trauma to unpack after a natural disaster like Harvey. It's also a signal that there are services nearby for them.
CLICK HERE TO READ MORE
https://www.nbcnews.com/storyline/hurricane-harvey/toll-hurricane-harvey-includes-ongoing-trauma-felt-survivors-n798586