By Judith Lipsett
Members of the Hall of Distinction Committee at 2016 induction celebration.  Left to right front row Janlee Wong, Benjamin Cuellar, Suzanne Dworak-Peck, Nancy Lim-Yee, Esther Gillies. Back row: Joseph Nunn, Catharine Ralph, Colleen Friend Not pictured: Frances Caple, Kim Gaghagen, Anita Harbert, Jim Kelly, Peter Lee. PHOTO CREDIT: Amy Tierney/Thrive Images
On Saturday, October 27, 2018, six inspiring social workers were inducted into the California Social Work Hall of Distinction, a program within the California Social Welfare Archives (CSWA) that ensures the advances and lessons of the profession remain available to future practitioners and researchers.
As master of ceremonies, Esther Gilles noted in her closing remarks, "Our inductees always shine a light on the power of individual social workers to effect change.… They reflect the potential for the social work profession to change the world. That power was evident in the accomplishments and the impact of the honorees."
This year's Hall of Distinction inductees were Wilfred (Bill) Coggins, an exceptional leader and practitioner in counseling and educational services; Kathleen Kubota, a child welfare advocate, program trailblazer and social work training innovator; Dr. John Oliver, a leader in social work education, administration and social justice advocacy; Yasuko Sakamoto, a role model in development and delivery of wide-ranging, high impact, culturally sensitive programs; June Simmons, an innovator and leader in health promotion and health care delivery programs for seniors; and Diane Takvorian, an extraordinary macro social worker committed to advancing health policies and promoting environmental justice.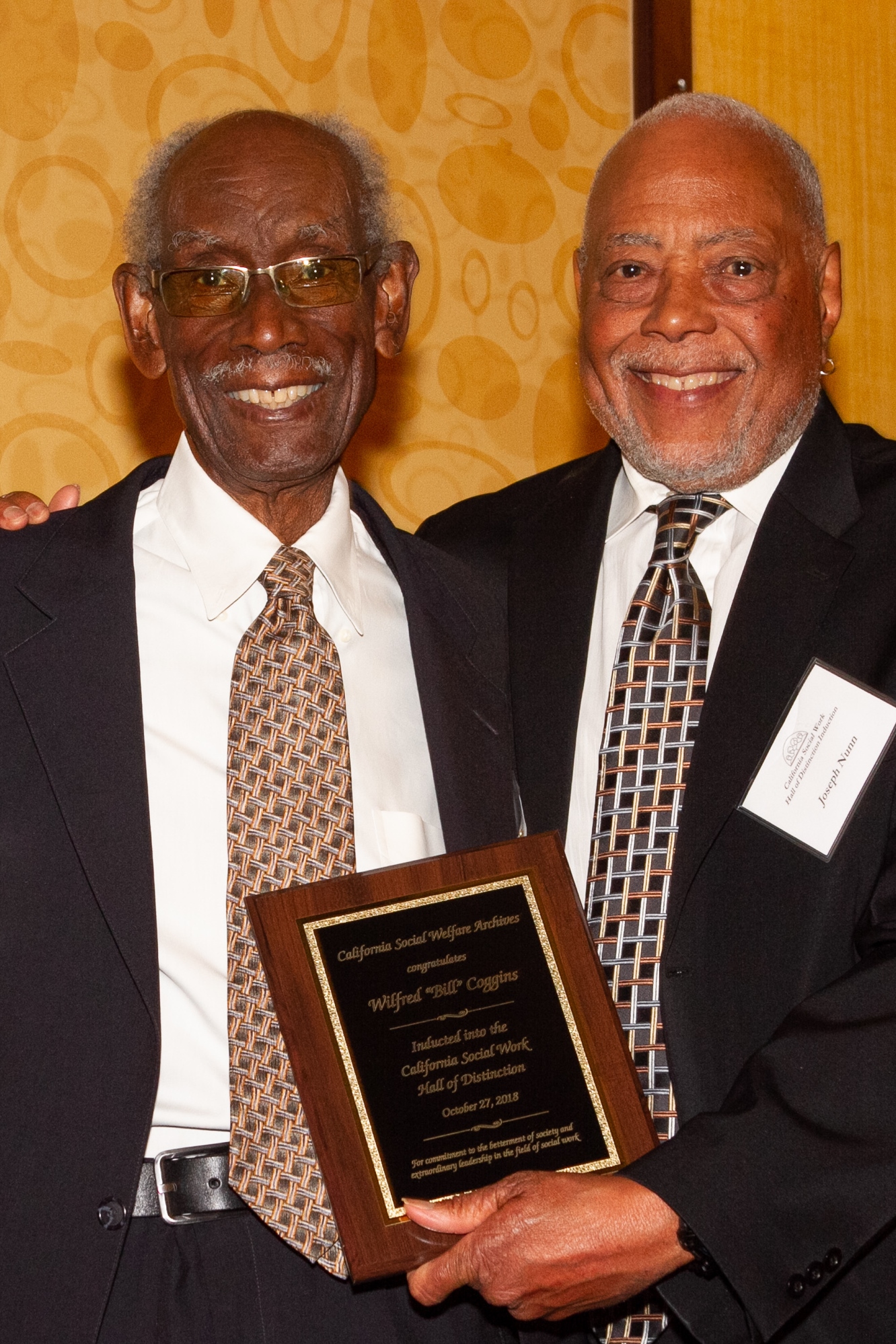 Bill Coggins (left)  with Joseph Nunn, presenter and NASW-CA Vice President
Wilfred (Bill) Coggins
In his introduction, Dr. Joseph Nunn noted a recurring theme in Bill Coggins' life and career: that people always saw something special in him. But, it is also clear that Bill Coggins was successful as a social worker because he always saw something special in others. Describing himself as a "groupie" in his acceptance remarks, he explained that "it's an existential fact that you can't do much without a group. You can't do it by yourself — you have to have alliances."
Hired by Kaiser Permanente in 1967 to conceptualize and develop a program to meet the social and emotional needs of the Watts community in South Los Angeles, Coggins met with local leaders and members of the community for months in the front seat of his van to create the Kaiser Permanente Watts Counseling and Learning Center, an agency that has lived up to its motto: "Helping People Grow."
Coggins earned his MSW from UCLA Luskin in 1955 and then worked as a psychiatric social worker for several organizations. But the Counseling and Learning Center is his enduring legacy, the place he founded and which he served as executive director for more than 30 years. From the outset, Coggins built relationships and established trust with community groups and with Kaiser Permanente departments to create an organization that today offers a wide range of mental health and educational resources for free or at minimal cost for the children and families in the neighborhood.
One early participant in the center's programs credits the services and encouragement her family received with breaking the cycle of poverty. "The fourth generation is already benefiting from Bill's support. Where others overlooked or discarded us as rocks, Bill saw diamonds in the rough," she wrote in support of his nomination for the Hall of Distinction. In May 2018, Coggins became the first-ever recipient of the UCLA Luskin Social Welfare Lifetime Achievement Award.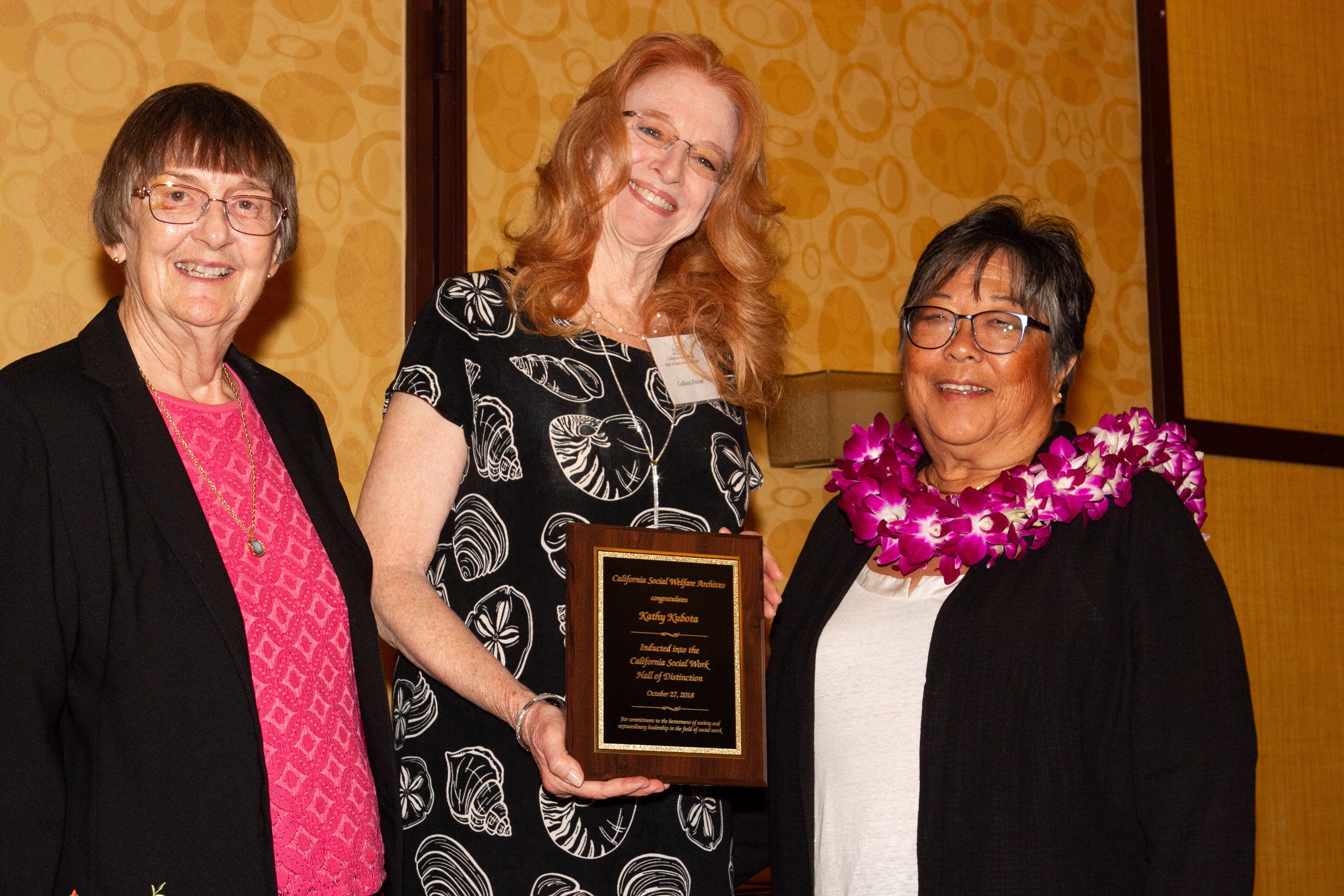 Left to right: CSWA President Esther Gillies; Colleen Friend, Chair, Hall of Distinction Committee; and Kathy Kubota inductee, and former NASW-CA President.
Kathleen Kubota
Kathleen Kubota (right) devoted her career to innovative work in the public sector as an advocate for children and active leadership in the advancement of her profession. Even while working toward her MSW at UCLA Luskin, where she had also earned her bachelor's degree, she knew that her focus would be on children's services. She fulfilled that ambition through an impressive variety of positions, from direct provider and volunteer therapist to chief of Los Angeles County's adoption division, and from project director of the Runaway Adolescent Pilot Project, a program that provided services for homeless youth, to the presidency of the California Chapter of the National Association of Social Workers.
In her introduction, Dr. Colleen Friend noted that Kubota "had a distinguished career of bringing together competing organizations and getting them to commit to common social work goals." For example, Kubota was instrumental in the creation of the Inter-University Consortium on Child Welfare, now the University Consortium for Children and Families, and was named its first director in 1991. Two years later, when she was appointed to be L.A. County DCFS Director of Governmental Relations, she was able to initiate or protect many programs that are now taken for granted. Among Kubota's successes in that role: preventing crucial Title IV-E funds from being block-granted to states, and streamlining home studies for some adoptions and foster care placements.
As president of the California Chapter of NASW, Kubota established the organization as a training provider and initiated training for social workers as mandated reporters of child, elder and dependent adult abuse. In looking back on her career, Kubota expressed appreciation for her colleagues in the diverse arenas in which she worked, saying, "I've had so much fun meeting and working with so many people — from the private sector, from the schools, from the public sectors."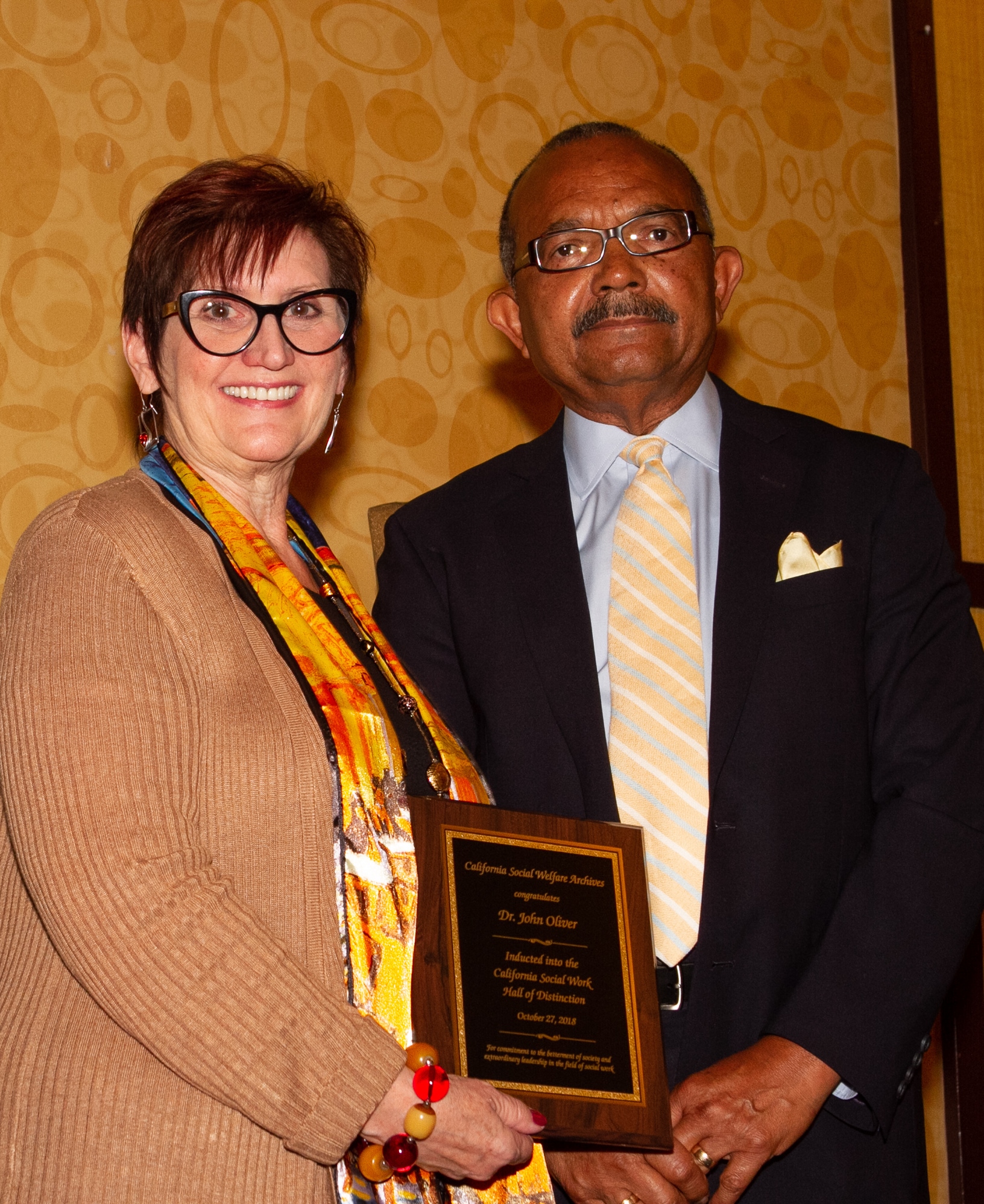 Dr. John Oliver
Nancy Meyer-Adams (Director, School of Social Work, CSU Long Beach) with John Oliver inductee and former NASW-CA Vice President.
In Dr. Nancy Meyer-Adams' introduction of Dr. John Oliver (right), she described his career as "characterized by an ongoing commitment to social work education, the organized profession, and oppressed and underserved communities."
Dr. Oliver's remarks confirmed this description. "During my entire professional career," he said, "I have focused on activities that promote equity and social justice." He was guided by his father's mantra, which was, "A life devoid of service of others is no life at all." This principle served Dr. Oliver well. "The essence of social work is the provision of professional service to others. The rendering of service to others ensured that I've lived a rich and rewarding life," he said.
After earning his MSW at UCLA Luskin and his doctorate at Brandeis University, Dr. Oliver started his career as a caseworker in child welfare. He taught at Simmons College and was acting dean and associate dean of the School of Social Welfare at the University of Wisconsin, Milwaukee, before joining the faculty of California State University, Long Beach, as director of its Department of Social Work, which became the School of Social Work under his leadership. In each of these positions, his gifts as an educator were recognized with awards for outstanding teaching.
In addition to his role as professor, Dr. Oliver conducted research, edited professional journals, gave presentations and published widely. As director of CSULB's School of Social Work, he helped initiate and maintain a distance-learning program that provided rural areas of the state with professionally trained social workers. He also held leadership positions in many professional organizations, and in 2004, he coauthored the Master Plan for Social Work Education in California.
Among other honors, Dr. Oliver received the Lifetime Achievement Award from the NASW's California Chapter and the UCLA Luskin Outstanding Alumni Award, and he was elected to the Black Administrators in Child Welfare Hall of Fame. After expressing appreciation to his parents, his wife, his friends, his colleagues and his students, saying, "I am because we are," Dr. Oliver said that "the looking-glass that you have provided me on this occasion provides an immensely satisfying reflection that will be etched in my memory forever."
Yasuko Sakamoto
Bill Watanabe, who founded the Little Tokyo Service Center (LTSC) in Los Angeles in 1980, hired Yasuko Sakamoto as the center's first bilingual social worker. "She set the standard for the LTSC," he said in his introduction. A pioneer of culturally sensitive services, Sakamoto spent the next 36 years building bilingual and bicultural social work programs for the Japanese (Issei) and Japanese-American (Nikkei) communities, programs that had been nearly nonexistent when she arrived in the city from Tokyo.
Sakamoto graduated from Meiji Gakuin University intending to become an English teacher. As she explained, however, she "felt a strong calling to help my students with emotional issues." That led her to go back to school to become a caseworker. After moving to Los Angeles, she earned her MSW at UCLA Luskin then became an LCSW, all while working full time at the LTSC and starting her family. Sakamoto noted that among the challenges she faced in her work was the hesitation of her clients to seek help because of the culture of shame and guilt. The Nikkei Family Counseling Program that she created respected these values while providing a safe space for counseling and mental health services. Her sensitivity to the traditions and concerns of this population also informed the development of the Nikkei Tomodachi Program, in which bilingual volunteers visit frail seniors; the first Alzheimer's Support Group for this community; a transitional housing program for survivors of domestic violence; and the Nikkei Helpline, staffed by bilingual volunteers. The author of numerous articles on the Japanese-American experience, mental health and other social issues, she became a sought-after speaker in the U.S. and in Japan.
Sakamoto accepted her honor in memory of the Issei "who worked hard despite low wages and discrimination to establish a Japanese-American community after leaving internment camps after World War II." She added that "after 40 years, I still love being a social worker."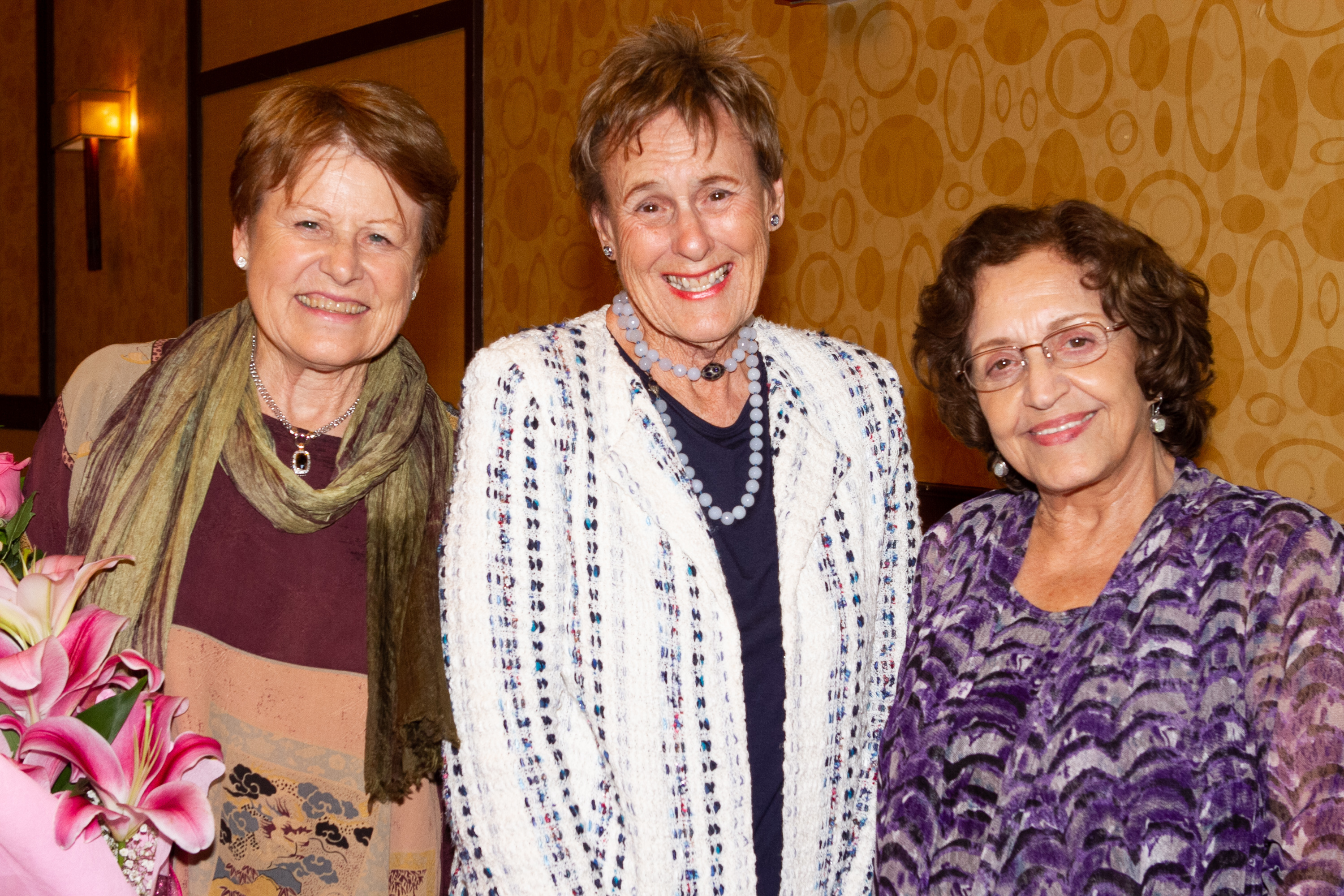 June Simmons, with Suzanne Dworak-Peck, Hall of Distinction Committee Member and presenter, Monika White.
June Simmons
June Simmons "may be the social worker we all want to be," said Dr. Monika White in her introduction. "She does everything… and everything she does and has done and continues to do is either for the current or long-term benefit of vulnerable populations, and that is the prize that she keeps her eyes on."
Soon after earning her MSW from what is now the USC Suzanne Dworak-Peck School of Social Work, Simmons was the first social worker to be hired at Huntington Hospital in Pasadena, California, where she was instructed to "do something about aging." She is still doing just that, 45 years later. Recognizing the potential of a hospital to be a focal point for services for older adults, she developed the Senior Care Network, a comprehensive geriatrics center that remains a vital resource in the city.
Simmons moved on to leadership roles in the Visiting Nurse Association of Los Angeles. She oversaw the reinvention of the VNA, culminating in the creation of the Partners in Care Foundation (PICF). As founder and CEO of PICF, whose stated mission is "to design and implement new models of evidence-based care that address the key social determinants of health," Simmons has pioneered a wide range of innovations to integrate care across primary care, hospital, home and community settings.
The word most often applied to Simmons is "visionary." In addition to the groundbreaking programs she created at PICF, under her leadership the organization was also a founding partner of the Geriatric Social Work Education Consortium and the national Evidence-Based Leadership Council. The recipient of numerous awards, Simmons serves on a variety of local and national committees, boards and task forces that shape policy and practice locally and nationally.
"As Dr. Oliver said, it's a privilege and we are fortunate to live a life with meaning and purpose that is true to your values," Simmons said in her acceptance remarks. "We have the pleasure of following our hearts." She added that her "motto is, number one, it has never not worked out, so you can take the risk because it always works out. And 'no' just means it is a much longer discussion than you were planning on!"
Diane Takvorian
With skill, persistence and dedication, Takvorian has followed a nontraditional path as a macro social worker to promote environmental justice in low-income communities of color in the San Diego/Tijuana region and beyond. Her goal, said Dr. Melinda Hohman, director of the School of Social Work at San Diego State University, "has always been to empower communities to develop their own leaders to address common problems."
As the "grandchild of survivors of the Armenian genocide and the first person in my family to attend college," Takvorian credited San Diego State, where she earned her bachelor's and MSW degrees, with giving her "the opportunity to learn about roots of injustice, that I was pretty enraged about when I got there."
After graduating, Takvorian helped found the Environmental Health Coalition (EHC) and has served as its executive director since 1982. The organization's mission is to empower residents through leadership development, organizing and advocacy, to achieve public policies that improve the health of children, families and neighborhoods, as well as of the natural environment — in other words, to seek environmental justice.
"Environmental justice," Takvorian explained, is "the right of all people to live, work and play in a safe and healthy environment, and that is taken away from some people because of environmental racism and the misuse of power that puts people of color and low-income people in harm's way at a greater rate than others."
Under Takvorian's leadership, the EHC has turned residents of disenfranchised neighborhoods into powerful advocates for their communities. Among its early successes was securing one of the nation's first community Right-to-Know laws to give residents information about chemicals used at businesses near their neighborhoods. EHC also participates in efforts to influence transportation policies to make them healthier for everyone. Recognizing her accomplishments, President Clinton appointed her to the Border Environmental Cooperation Commission, and President Obama asked her to serve on an advisory committee for the NAFTA Commission for Environmental Cooperation.
Takvorian concluded her remarks with a quotation from Frederick Douglass: "For it is not light that is needed, but fire; it is not the gentle shower, but thunder. We need the storm, the whirlwind, and the earthquake."
The California Social Work Hall of Distinction is part of the California Social Welfare Archives, which was formed in 1979 to preserve the history and accumulated wisdom of the social work profession for the benefit of future practitioners and scholars. The Archives makes available materials related to social work and social welfare programs in California, including a collection of more than 160 oral history interviews with social welfare leaders. Housed at the USC Special Collections Library, the Archives and its Hall of Distinction are supported by the USC Suzanne Dworak-Peck School of Social Work. Visit http://www.socialworkhallofdistinction.usc.edu to learn more about the inductees and the Hall.