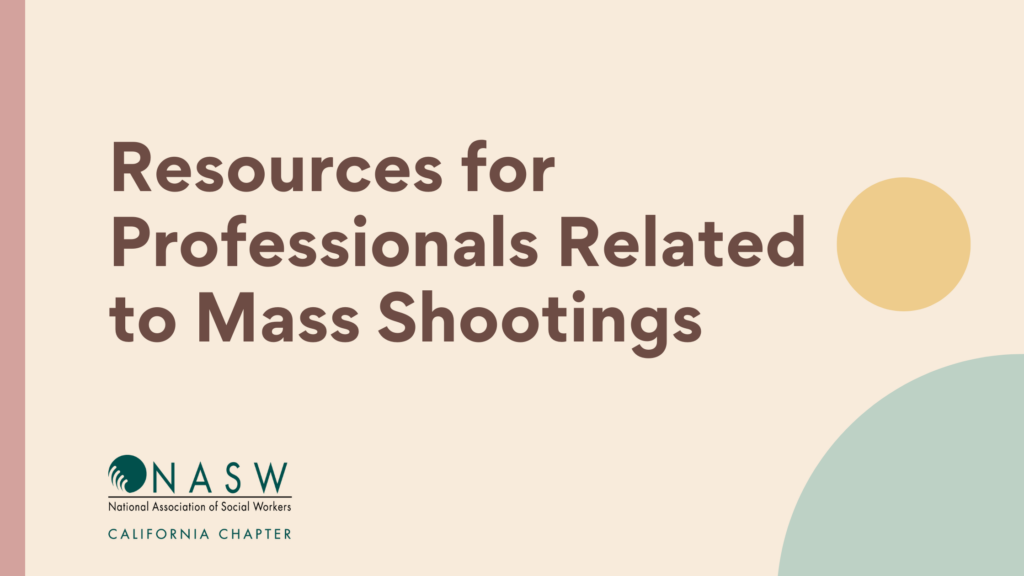 In light of the recent tragic mass shooting in Texas, as well as countless other gun-related tragedies throughout our country, the National Association of Social Workers and the California Chapter are here to provide information and resources for social workers and professionals to learn, respond, advocate for change. Our hearts are hurting, and we know that social workers, parents, families, school professionals, and those whose identities encompass multiple of those titles are tired, angry, and anxious.
These horrific events take a toll on all of us, and we will continue to advocate for policies that improve school safety and tighten gun restrictions for the well-being of communities across the state and country. We are with you, and we will keep fighting alongside you.
NASW Resources
Social Workers: Take Action and Seek Support With NASW-CA
We are social workers, we are advocates, and we are human. These are all realities that we need to make space for during this time. If you are a social worker in a space of power and privilege, supervising others, create the time and allowance for your colleagues to take time off, breath, and process. If you are on the frontlines, honor yourself and what you need to do the both/and – take care of yourself and others. If you are an advocate, let's get to work.
Regardless of the roles you hold, there are actions you can take.
The National Association of Social Workers, California Chapter is here to support you. Consider joining us at our next peer social work support group or our BIPOC social work support group for a space to be in community with others.
Call your elected officials. They need to hear from you, your lived experiences, frustrations and fatigue. Your voice, as a constituent, is the most pivotal when trying to influence policymakers.
Our children and families here in California are suffering as they are trying to learn how to feel safe in their communities. If you are a licensed clinician, volunteer your services during this time.

Submit your information here

. NASW-CA is partnering with the California Department of Education to ensure families know where to turn to when their children are needing to better understand, process, and access tools for healing.
From NASW National: Resources for Helping Children Cope with Traumatic Events
NEA's School Crisis Guide | Knowing what to do in a crisis can be the difference between stability and upheaval. This step-by-step resource created by educators for educators can make it easier for union leaders, school district administrators, and principals to keep schools safe — before, during, and after a crisis.
National Child Traumatic Stress Network NCTSN has several pdfs and other resources for helping parents and children deal with catastrophic mass violence events, including parent tips for helping school-age children after disasters, which lists children's reactions with examples of how parents should respond and what they should say.

Talking to Children About Tragedies and Other News Events

| The American Academy of Pediatrics (AAP) encourages parents, teachers, child care providers, and others who work closely with children to filter information about the crisis and present it in a way that their child can accommodate, adjust to, and cope with.

Helping Children with Tragic Events

| In the News It's normal for both adults and kids to feel anxious after such a publicly devastating event, but there are things you can do to minimize the stress and maintain a sense of normalcy.

Incidents of Mass Violence

| Learn about who is most at risk for emotional distress from incidents of mass violence and where to find disaster-related resources.
Additional Resources
We will continue to share relevant resources with you as they become available.