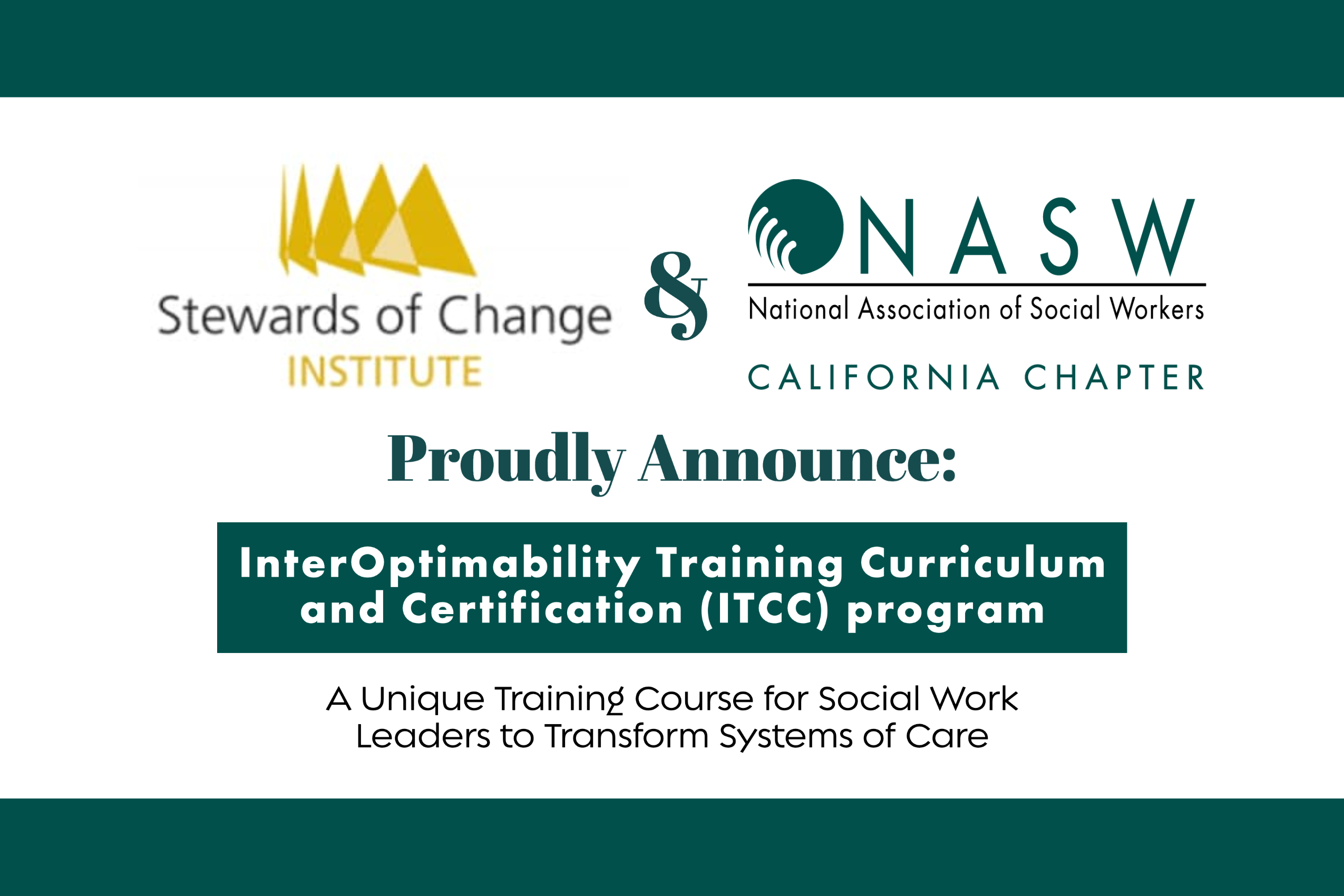 NASW-CA is proud to announce that we are collaborating with Stewards of Change Institute on the InterOptimability Training Curriculum and Certification (ITCC) program, to offer you a unique training course for to transform systems of care.
Public and private programs, agencies and organizations nationwide are preparing to build, rebuild, and grow in 2021 and beyond. And – as the pandemic has demonstrated every day – the need will be greater than ever to address socioeconomic problems, racial disparities, and health inequities with improved Interoperability and information-sharing. ITCC was built to fill that need.
We invite you to join us for this amazing opportunity! This course meets the qualifications for 6 hours of Continuing Education for LCSWs, LMFTs, LPCCs, and LEPs as required by the CA State Board of Behavioral Sciences. ITCC's unique methodology uses a systems-thinking approach to address the challenges faced by Social Work, Health, Human Services, Education, and related fields. It's an invaluable tool for strategic planning, professional education, team building, training, and change management.
Courses are on-demand, so learners go at their own pace whether participating individually or in a cohort (learning group).
To maximize learning, we recommend joining a cohort to get free access to webinars facilitated by ITCC experts.
Once any group reaches 20 participants, we will schedule a consecutive cohort.
·Our cohort webinars provide additional information and the opportunity to interact with ITCC experts.
Webinars also provide an opportunity to consolidate learning, clarify ideas, meet colleagues who have similar interests, and take steps to apply the learning at work.
In each course, learners will receive the core knowledge needed to begin planning and implementing change.
After each course, learners receive a certificate and a digital badge to document and display their competency.
Completing this course is the first step towards earning your ITCC certification. More courses are launching soon!
Courses schedule for the first learning group (NOTE: The 2nd and 3rd date have changed from our prior posting):
April 14, 9 – 10 am PT: Kick-off webinar
May 5, 9 – 10 am PT: Module 1 webinar
May 19, 9 – 10 am PT: Module 2 webinar
The discounted cost for NASW members: $195, and for non-members: $295 FOR CEUs, a $10 processing fee applies.
Continuing Education credits are available through NASW-CA's accreditation in the state of California.
You can register for ITCC's first learning group by clicking here!
PDF Flyer available for download below: