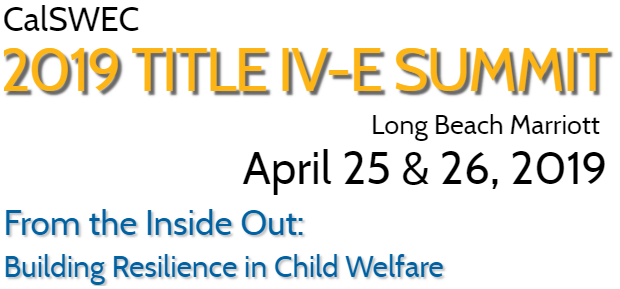 The 2019 CalSWEC Title IV-E Summit is an annual event that convenes
child welfare social work practitioners, educators, and CalSWEC Title IV-E
students. The Summit is intended to link social work theory with applied
practice, while providing opportunities for a diverse group of child
welfare stakeholders to network and learn from one another.

Registration
Registration for this event is required; on-site registration is not
available. There are no registration fees associated with the Summit
(though cancellations must happen in ADVANCE of the event).

Registration closes April 3, 2019, or when we fill up. Save your
confirmation e-mail from Eventbrite as receipt of your registration. If you did not receive a confirmation email, you did not successfully register.

Already registered? Please circulate to others who might like to come!

Hotel
The Summit will be hosted at the Long Beach Marriott. The governmentrate at the Long Beach Marriott is $120 -180 per night, depending on the
night. If you are not eligible for the government rate, and you would like
to get on our waitlist for the room block, you may fill out this form.

The room block is not guaranteed. Please reach out to the hotel directly if you have questions about rates, or Michelle Perez-Robles (CalSWEC
Office and Event Manager) at mperezrobles@berkeley.edu if you have
questions about other Summit logistics.

Keynote and Workshops
The keynote address will be delivered by Mr. Gary Taylor, Orange
County's former Director of Children & Family Services. The title of his
keynote is Building a Resilient Workforce. Thursday workshop abstracts
can be found here.

Friday workshop abstracts can be found here. When you
register, you'll have an opportunity to select your top workshop
preferences.

Public Child Welfare Resource Zone
The 2019 Title IV-E Summit hosts a Public Child Welfare Resource Zone,
made up of agencies and practice partners offering information and
networking opportunities. Stop by to chat with them about their
organization, job openings, opportunities to network through
professional groups, and other child welfare topics.

Live Stream and Social Media
The keynote session and select workshops will be streamed LIVE
on Friday, April 26. Remote viewers are encouraged to participate in
these sessions on Twitter using #TitleIVESummit. For more information,
follow us on social media. Live streamed workshops will also be recorded and posted to the dashboard after the event.

Questions?
If you have questions about the logistics, room block, or location of this
event, please contact Michelle Perez-Robles, CalSWEC Events and Office
Manager, mperezrobles@berkeley.edu.

If you have questions regarding the CalSWEC Title IV-E Summit's
program, please contact Rose Chahla, Title IV-E Assistant Director,
rose.chahla@berkeley.edu.

Partial funding for this meeting is provided by the California Department of Social Services and sponsorship through NASW-CA.