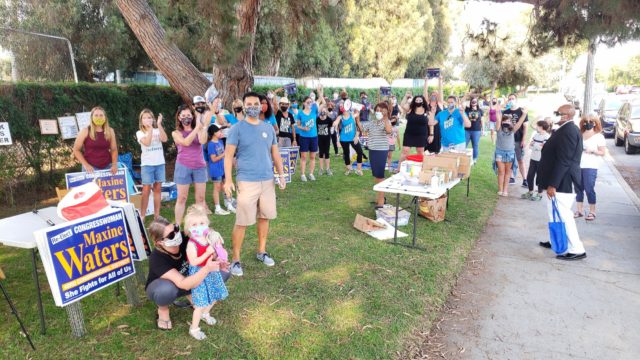 From Westside Activists, Organizers of peaceful demonstrations and protests for justice and equality:
GOTV Event #4 with Congresswoman Maxine Waters! WHAT A DAY!!! When a living legend says they are coming to your community event, you show up and you listen! CONGRESSWOMAN MAXINE WATERS joined us for Popsicles & Postcarding on a day when LA was melting… and she brought even more heat as she showed us what it means to get out and do the work!
Now it's our turn. Let this be the kick-off for all of us to commit every bit of energy we can muster over the next 57 days to make a Blue tsunami happen! In just one hour 85 kids and adults completed over 400 postcards, which is amazing! But the work continues… and our children deserve better. LET'S BE THE CHANGE TOGETHER!
Thank you, Congresswoman Waters, for being the inspiring activist, leader, and passionate fighter for the people! We CANNOT take Maxine Waters' re-election for granted — DONATE, SUPPORT, & VOTE! Although her candidacy may seem "safe," voter complacency in the 2016 election was the Democrats' downfall. The $75 we raised from Sunday's event will be donated to Waters' campaign — please send her even more!
Additional thanks to Blanca Jimenez, Mr. Messiah, and all the others who joined us for the afternoon, we appreciate your support, always!
We are all in this together, let's do this! VOTE BLUE — and make sure everyone else does too!
Donate here to Maxine Waters' re-election campaign: https://maxinewatersforcongress.com/
Link to next Sunday's GOTV event: https://www.facebook.com/events/1036728926775198/