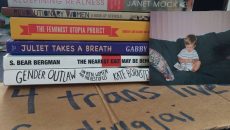 (image from Facebook)
Transgender/trans-sexual (hereby referred to as trans) youth have the highest suicide rates among population groups. Trans is a biological condition that emerges when a person is born one gender but emotionally relates more with the other. The problem is that there is a societal misperception about trans because of expectations to act as the gender that was assigned at birth.
This creates confusion and feelings of isolation within people who were born as trans. These feelings of not being accepted lead to isolation, depression, and many times suicide, hence the high suicide rates within the trans community. To counter these feelings, it is important to create a loving, accepting environment that understands these challenges.
This situation led to events of late December 2016 when Jai went missing. A countywide search effort was initiated to try to find Jai. Eventually, Jai was found having committed suicide. Acknowledging the community's effort to find Jai, the family decided that it was important to raise awareness of the plight of trans youth. This brought to fruition the library project where books explaining the issues surrounding trans youth would be disseminated to various library collections around Kern County to expand awareness and knowledge to memorialize Jai's death.
Over 200 books were donated to the project from all over the United States and Canada. Disseminating the collection was done at a ceremony on April 2, 2017 that NASWCA co-sponsored. The theme of the event was "Making Bakersfield 'softer and safer' through Jai's Library."
NASWCA was a natural co-sponsor since social work is the profession that provides a voice for disenfranchised individuals. It also helped that Jai's mother is a graduate of the MSW program at California State University, Bakersfield.
The library dedication attracted over 100 people on a beautiful Sunday afternoon. One of the speakers was Audrey Chavez from Ricky's Retreat who stated, "It was great to see such a great turn out from a conservative county like Kern."
The books were distributed to five different locations where trans youth congregate in order to help them not understand that being trans is a biological condition and the importance of not feeling isolated. The locations were all places where trans youth can receive support. The recipients of the library donations were Club Gen at California State University, Bakersfield; Ricky's Retreat; the Lesbian & Gay Center; Kern County Public Library; and SAGA Club at Bakersfield College.
The event in itself was a source of education. Ellen Eggert provided information about suicide prevention and the need to care and reach out to others. In this electronic world, there seems to be a loss of personal contact and one key message to suicide prevention is to get to know the other person, not through texting but to personally get to know another person.
Mary Valenti facilitates a support group for family members of suicide victims. She provided information about the effects of suicide on family members and what can be done to try to prevent suicide.
Michaela Mendelsohn is working with businesses to help them become Trans friendly in their employment practices. Currently companies have difficulty in hiring Trans individuals and Michaela has launched a trans employment program to work with companies to help them recognize, accept, and hire Trans individuals.
The dedication ended with a call to action for all present to continue working to support transgender/trans-sexual individuals.
As social workers, it is important to recognize and understand the needs of trans individuals and to speak out on their behalf.