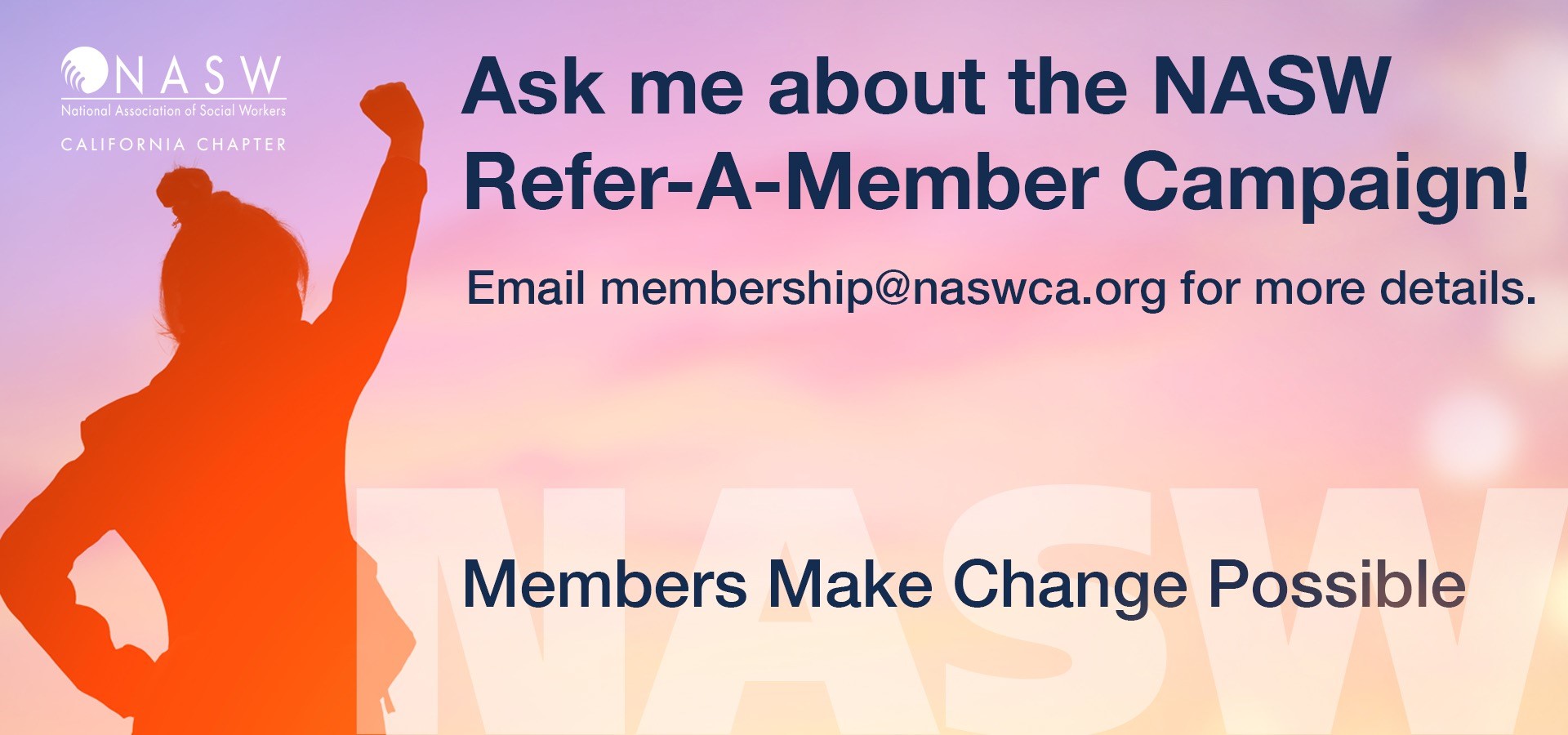 Are you a member of NASW? Do you want to be a part of our new Refer-A-Member Campaign? As a recruiter, you are eligible to select a free benefit/reward once you refer a new member and you'll also be eligible for a RAFFLE prize from the California Chapter!
Campaign runs through October 31st!
Email inquiries to Jolene Hui at membership@naswca.org.
The campaign acknowledges and rewards our most committed long-time members and asks them to help us identify and recruit other seasoned social workers to NASW who care about the good of the profession.
• Campaign goal is 1,000 new Regular members who are leaders in the profession.
• Key message for our member Recruiters:
"You have already given so much to the profession."
"Social Workers need NASW fighting for the profession, the populations we serve, and the issues we care about."
"Let's get more people into NASW to help strengthen our voice and influence."
You, as a recruiter, will visit the campaign Recruiter page at www.SocialWorkers.org/MemberReferral and find links for a sample letter, email or text to send to a prospective member you wish to invite.
The Recruiter page includes:
• sample text for inviting prospective members
• member testimonial quotes about the value of membership, to help you personalize your invitation
• campaign FAQs and eligibility rules for prospective regular members,
• a short form to tell us whom you referred and to select your preferred free benefit / reward, and
• acknowledgement of participating members who are helping us recruit new members. Recruiters will be recognized on the Recruiter page, and in an event in the fall.
Referred members will be asked by their Recruiter to join NASW, and then to visit the campaign web page for Referred members at www.SocialWorkers.org/MemberInvite
The Referred Member page includes:
• campaign FAQs
• eligibility rules for prospective regular members, and
• a short form for telling us who referred them and for selecting the free Specialty Practice Section of their choice as a reward.