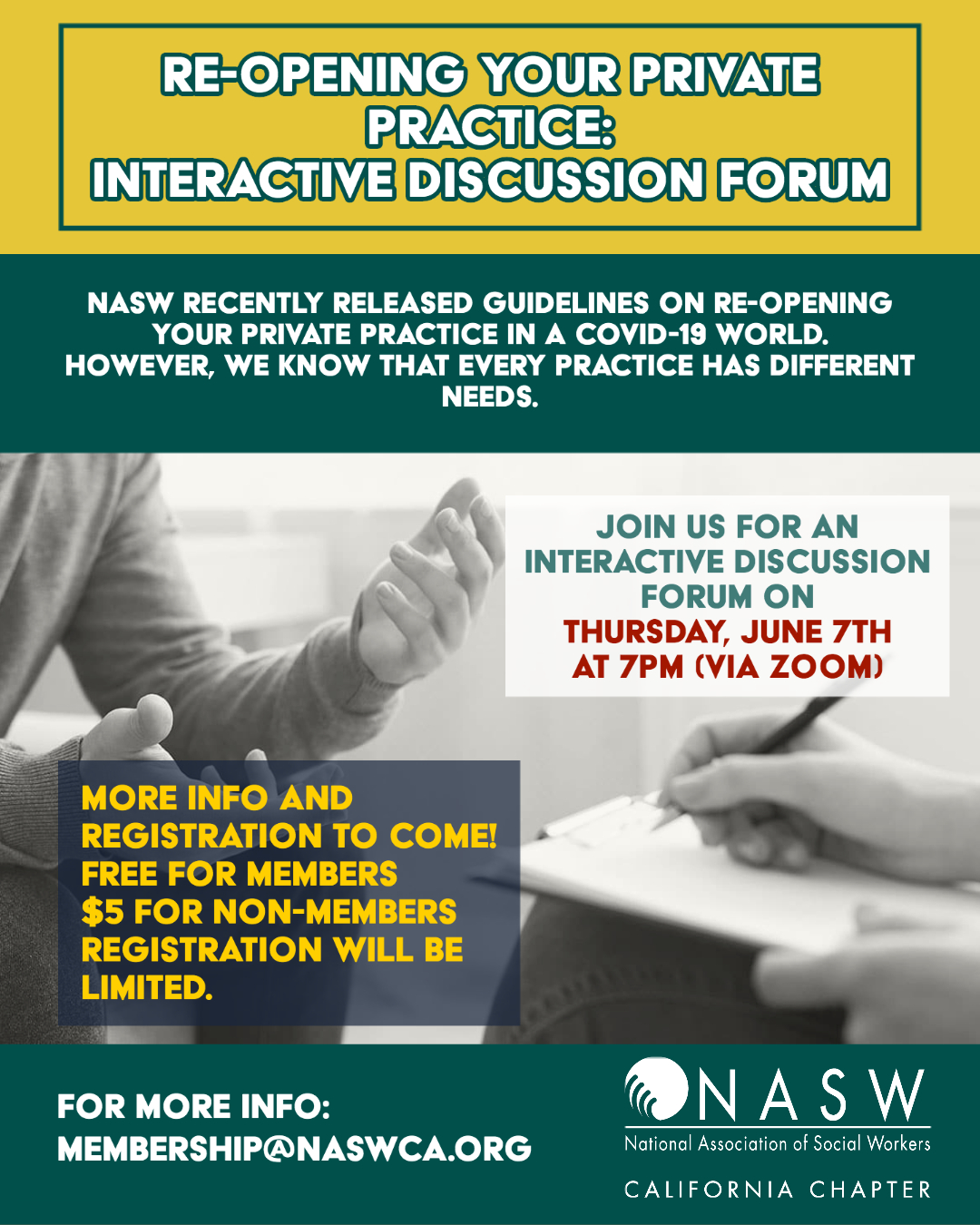 NASW recently released guidelines on re-opening your private practice in a COVID-19 world. However, we know that every practitioner is different and every practice has different needs. Join us for an interactive discussion forum on Thursday, June 7th at 7pm (via Zoom) as we address best practices for re-opening your office to see clients again and share resources with one another.
More info and registration to come!
FREE for members
$5 for non-members
Registration will be limited.
For more info: membership@naswca.org
ABOUT THE FACILITATORS
Teresa Ejanda-Sano is a Licensed Clinical Social Worker and a Clinical Social Work Supervisor with the Whole Person Care Program of Los Angeles County Department of Health Services. Prior to HealthCare, she had 14 years experience working in child welfare and mental health. Teresa is a second generation Filipina American whose values were formed through witnessing her immigrant parents providing support to other family members and immigrants adjusting to life in the United States. She was fortunate to have mentors who helped shape her identity and supported her to feel seen. Outside of her full-time work, she has a part-time private practice. She is a mother of 3 children, 2 cats, wants a puppy, and has a partner who indulges her impulsive desires to start new hobbies.
S. Jolene Hui is a Licensed Clinical Social Worker who is the Director of Membership for NASW-CA. She is adjunct field faculty for the MSW Program at California State University, Dominguez Hills and a therapist in private practice. She is a foodie who loves to run, watch TV, and spend time with her family.
PDF Version of flyer available below: