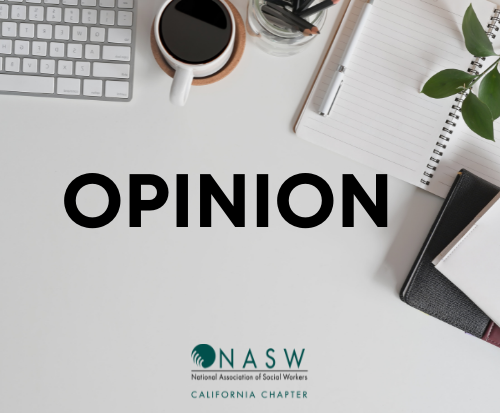 As a team leader, I was fortunate enough to attend this year's Legislative Lobby Days, hosted by the California Chapter of NASW. Advocacy is a core part of social work and social justice, and it seemed like I was stuck inside my small network within my school at UCLA. My personal involvements were with the former foster youth group, the Collegiate Recovery Program, which serves any students related to substance use and formerly incarcerated students. Organizations like the National Institute for Foster Youth (NIFY) have graciously invited me to advocate for foster youth bills on the state and federal levels before Lobby Days with my lived experience. But I never felt comfortable enough to share my story and backed down from meetings with legislators because I thought it would not make a difference.
This year, NASW California chose AB 2222, The Golden State Social Opportunities Program, to support at Lobby Days. This bill would provide $20,000 for former foster or homeless youth (McKinney-Vento) working towards careers as LCSWs, LPCCs, or LMFTs. I was given the opportunity to go to graduate school with the help of the Department of Rehabilitation. I know many others with my background cannot afford $50K in loans from the University of California.
This bill was very personal to me, and I shared that during my appointment time at Lobby Days. There are so many obstacles that foster youth face in college, and social work graduate programs are not one we are all prepared for taking large loans out to pay. We know that the field can be challenging to get equitable pay, but it is an act of altruism that brought me back to social work and so many others from our upbringings. The Title IV-E Child Welfare Stipend Program is not always an option many former foster youth want to take, with the added two-year contract with DCFS. I believe in the impact of this bill and the future of social workers with foster youth backgrounds.
This year at NASW's event, I was given back my voice. After leading my meeting with Senator Susan Eggman's staff, I realized that I had been holding back. My UCLA Alumni mentor Jennifer Ferro at KCRW, heard about my positive experience with Lobby Days and advocated for AB 2222. She set up an appointment one-on-one with LA Assemblymember Holly Mitchell in May. This experience with NASW has allowed me to explore an area of advocacy I did not think I was capable of showing up in before. I am inspired to explore this new area of social justice and continue using my voice to inspire change in our field.
-Sage Brand 
NASW CA Intern 2021-2022 

Sage Brand is a current Masters of Social Work student at UCLA, graduating in June 2022. They are an academic advisor at the University of California San Diego. They also have worked in the Office of the Chancellor's California Community College as a Policy Analyst, specifically on Basic Needs. Sage also received their Masters in Global Health at UCSD. Sage spends time empowering the next generation of former foster youth and identifies as a person in long-term recovery.