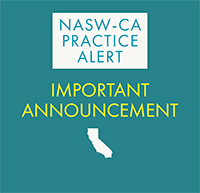 For many mental health clinicians, their voicemail greeting and/or after hours message may instruct individuals to call 911 or go to their nearest emergency room in case of a psychiatric emergency. As the number of COVID-19 cases increases, emergency services may become overwhelmed. Because some cities are experiencing a significant increase in 911 calls and Emergency Departments are (or will be) overrun by patients, it is good practice to alter the message to route callers to other helpful locations.
In California, all county mental health departments have 24/7 hotlines for local residents seeking assistance in a crisis and to access local mental health programs.
If possible, clinicians can include the National Suicide Prevention Lifeline, Local County Mental Health 24-Hour Crisis Intervention Information, or County LPS Designated 24-Hour Facilities. Not all geographic areas will have all of these available, so select the appropriate resources for clients according to geography and need.
Please see the information and links below:
In a crisis, call 9-1-1 or the National Suicide Prevention Lifeline at:
English: 1 (800) 273-TALK (8255)
Spanish: 1 (800) 628-9454
Local County Mental Health 24-Hour Crisis Intervention Number: https://www.dhcs.ca.gov/individuals/Pages/MHPContactList.aspx
County LPS Designated 24-Hour Facilities: https://www.dhcs.ca.gov/Documents/LPS-24hr.pdf