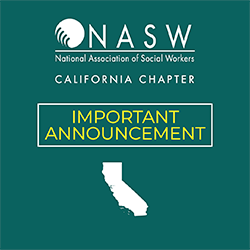 The National Association of Social Workers (NASW) is seeking an Executive Director for the California Chapter. The ideal candidate will possess strong nonprofit business management skills, a strong understanding of professional associations, a substantial knowledge of the social work profession, will be comfortable working with community partners and will have a strong commitment to social work values. Applicants will have also leadership skills that engage, inspire, increase and mobilize the chapter and Association's membership.
NASW is the largest membership organization of professional social workers in the world, with over 100,000 members. NASW works to enhance the professional growth and development of its members, to create and maintain professional standards, and to advance sound and just social policies. The California Chapter located in Sacramento, CA has more than 8,000 members statewide with an on-going goal of growing membership from the growing number of professional social workers in the state of California.
The Chapter Executive Director reports to the NASW Deputy Director of Chapter Operations at the National Office and is accountable to the California Chapter Board of Directors. Travel across the state of California is a required component of the position. The position is for 30 hours per week with a competitive salary plus excellent benefits, including health and life insurance, and retirement.
Minimum Qualifications:
Bachelor degree required; MSW preferred
Minimum 3 years of senior management or administrative experience; nonprofit and board development experience is helpful and will be a plus for prospective candidates
Leadership experience working and collaborating with profession or non-profit organizations and their volunteer Boards
Demonstrated ability to work independently while meeting meeting local and national organizational goals and timelines
Exceptional management and administrative skills with oversight of multiple programs
Exceptional written and oral communications
Strong organizational abilities, including budget preparation, analysis, decision -making and reporting
Desired Qualifications:
Professional Social Worker with MSW
NASW member or join upon employment
Experience in membership recruiting, engaging, and support
Demonstrated success in establishing relationships with individuals and organizations of influence, funders, volunteers and partner organizations
Strong public speaking ability; Ability to envision and convey the organization's strategic future to staff, board of directors, volunteers and members
Demonstrated program development and implementation
Experience and skills in the area of public policy, advocacy, and the legislative process
Knowledge of local and national policy as they relate to the profession of social work
Ability to manage administrative tasks in conjunction with the NASW National Office
Experience in fundraising
Experience working with social media platforms
Proficiency with MS Office products software, including Word, Excel, Publisher and PowerPoint, as well as working in the online/"cloud" environment
Only electronic applications will be accepted. Applicants will email a cover letter and résumé addressing above qualifications, to: californianasw@gmail.com , Subject title " California Executive Director" no later than April 24, 2020.
A downloadable PDF version is available here:
NASW-CA is an equal opportunity employer, committed to a policy of equal opportunity and non-discrimination.  Applicants from diverse communities are encouraged to apply.