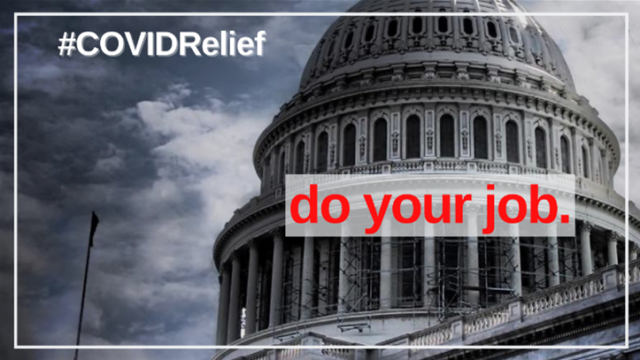 Last Thursday, Senator Mitch McConnell and the Senate failed to advance an inadequate, "skinny" COVID relief bill. Now, the next two weeks are critical to passing a real, robust pandemic relief bill that directly supports families and individuals who are most in need right now. If the Senate fails to act this month, it will delay any relevant action until after Election Day-and very likely until January. Every day that passes, more families slip closer to economic disaster. Call your Senators today to tell them it's time to #DoYourJob!
The Census Bureau Household Pulse Survey recently revealed how many people in the U.S. are falling through the cracks:
22 million people are in households that don't have enough to eat;
At least 14% of households are behind on rent;
45% of adults live in households that have lost income from work-disproportionately impacting people of color: nearly 6 in 10 Latinx households and more than half of Black households have lost income.
76 million adults-one-third of all American households-said in the past week they found it somewhat or very difficult to pay their usual household bills.
With flu season approaching, the fall and winter are going to bring new challenges and threats from COVID-19. If Congress doesn't act soon, conditions for families, essential workers, and health care workers are only going to deteriorate. Call your Senators today to demand real action on passing a COVID-19 package that meets the needs of our nation.
Tell Your Senators, #DoYourJob: 888-496-3502
Call twice to reach both of your Senators.