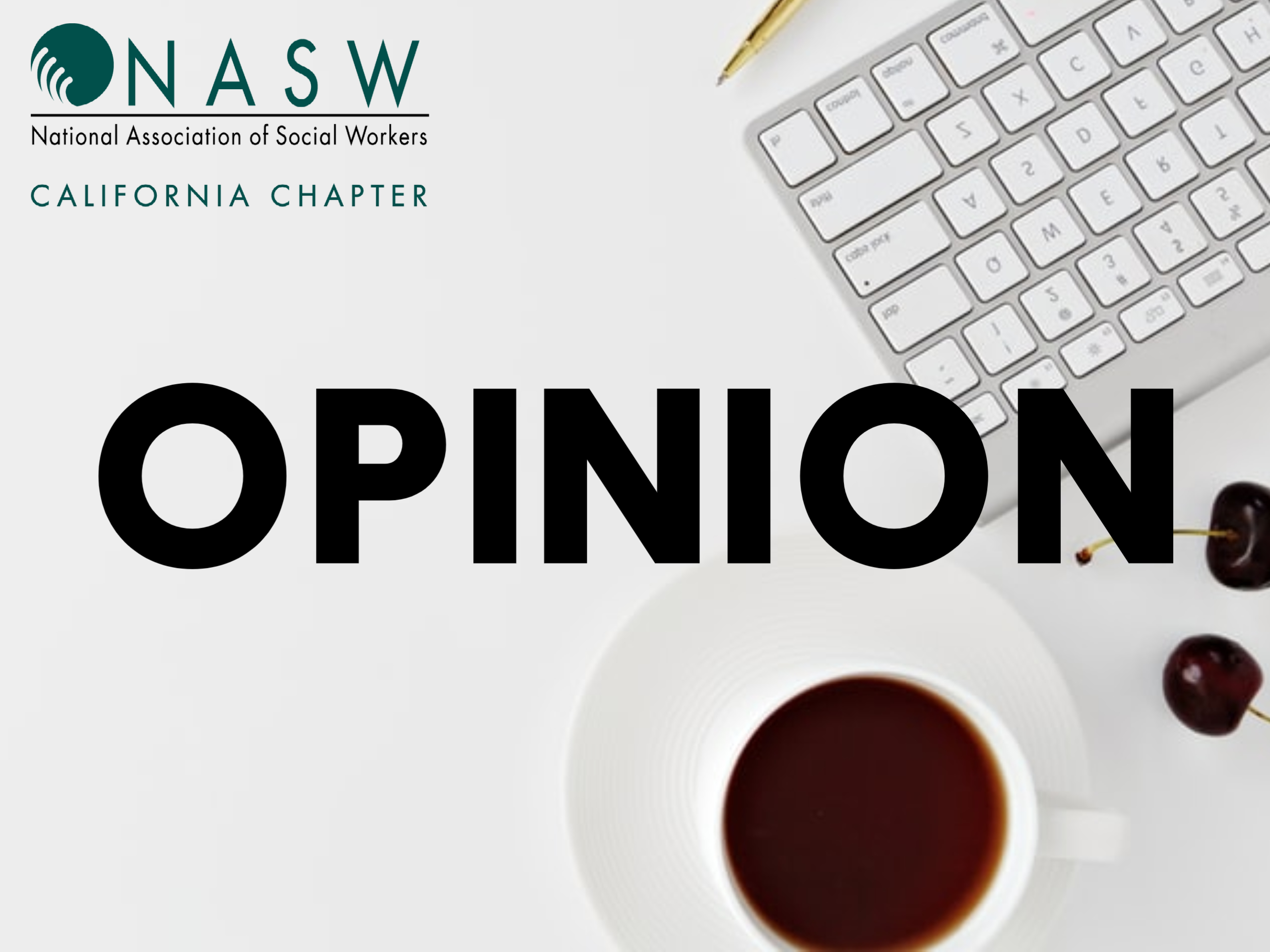 By Jason Bloome
Home and Community Based Services (HCBS) allow seniors and people with disabilities and chronic illnesses to live independently at home or in community-based care homes (e.g. assisted living homes) instead of skilled nursing homes (SNFs). HCBS includes but is not limited to home health aide services, assistance with custodial care needs and other supportive housing. HCBS recipients include, among others, the disabled and elderly who require help with dressing, bathing, have incontinence and/or are wheelchair dependent. Shifting long term support and services (LTSS) from expensive SNFs to more affordable HCBS is a trend accelerating in states throughout the nation. States that succeed in LTSS rebalancing benefit from Medicaid dollar savings and creating pathways to community-based care settings for the many seniors and disabled unnecessarily institutionalized each year. Hindering states' ability to rebalance LTSS are budgetary and enrollment limits resulting in long HCBS waitlists.
On March 11, 2021, President Biden signed the American Rescue Plan Act of 2021 (ARPA). Part of ARPA (Sections 9817) provides qualifying states with a temporary 10 percentage point increase to the federal medical assistance percentage (FMAP) for certain Medicaid expenditures related to HCBS from April 1, 2021 through March 31, 2022 provided states maintain the same spending levels as of April 1, 2021.
ARPA mandates states use the increase in FMAP to supplement, not supplant, existing state funds used for Medicaid HCBS programs. The 10% increase in FMAP for HCBS will be added to the state's regular Medicaid matching rate (e.g. states must match the increased FMAP dollars with their own funds) to implement, supplement, strengthen, enhance, or expand HCBS programs. The Center for Medicaid and Medicare Services (CMS) expects states to submit an initial HCBS spending plan and commentary and to provide quarterly updates. States have until March 31, 2024 to spend the enhanced FMAP funding. 
The federal government allows FMAP to be claimed by states for the following categories:
Home Health and Private Duty Nursing
Personal Care
Case Management
Certain School-Based Services
Behavioral Health Rehabilitative Services
1915c Waiver Services
1915(i) State Plan Services
Program of All-inclusive Care for the Elderly (PACE)
Managed Long-Term Services and Supports (MLTSS)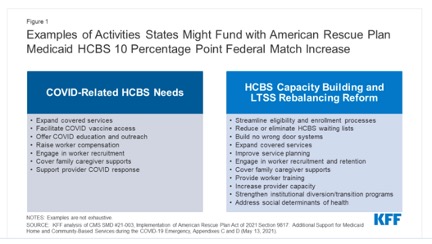 The California Health and Human Services posted on their website the ARPA HCBS spending plan on June 7, 2021 for public comment and submitted their proposal to CMS on June 12th. CMS will review and approve California's spending plan in July.
California proposed HCBS spending plan allocates the $3 billion in enhanced federal funding to 35 initiatives that fall within 5 categories of services:
Workforce: Retaining and Building Network of HCBS Direct Care Workers
HCBS Navigation
HCBS Transitions
Services: Enhancing HCBS Capacity and Models of Care
HCBS Infrastructure and Support
A few initiatives published by DHCS include:
Medicare Partnerships and Shared Savings on Supplemental HCBS Benefit Services
Funding: $100 million enhanced federal funding: One Time
Lead Agencies: DHCS and California Department of Aging (CDA)
Working in collaboration with federal, state and local partners, the DHCS' Office of Medicare Innovation and Integration will lead in planning for integrated, coordinated service delivery for dually eligible individuals (those with both Medicare and MediCal eligibility), and in developing innovative approaches to integrated models of care and coordinated access to LTSS for Medicare-only beneficiaries.
Current federal-state collaboration efforts for dually-eligible individuals do not provide the state with a portion of the Medicare savings from reduced inpatient or short-term nursing home stays reducing the state's ability to invest cost savings into services and supports that improve outcomes and reduce overall costs. Through this proposal, DHCS would fund incentives to invest in models of care that reduce inpatient or short-term nursing home stays.
DHCS would also pursue a Medicare and Medicaid Shared Saving program with the federal government, building on the success of Cal MediConnect and providing more incentives for Care Plan Options, leveraging the upcoming Dual-Special Needs Plan aligned enrollment model, and considering opportunities to improve care for dually eligible populations in Medicare fee-for-service.
Additionally, DHCS would provide incentives to Medicare Advantage plans to develop innovative approaches for integrated models of care, focused on partnerships with providers such as community-based organizations that provide HCBS as supplemental benefits. DHCS will also consider partnerships and incentives to provide HCBS to Medicare fee-for-service beneficiaries.
No Wrong Door/Aging and Disability Resource Connections (ADRCs)
Funding: $5M enhanced federal funding ($5M TF) One-time Lead Department(s): CDA, with DHCS, DOR
California is establishing a state-wide "No Wrong Door" system (or Aging and Disability Resource Connections), so the public can easily find information, person-centered planning, and care management for older adults and adults with disabilities across the range of home and community services provided by health plans (i.e., CalAIM "In Lieu of Services") community-based organizations (CBOs), and counties. This investment supports the interoperability between the proposed ADRC technology and data systems with CBOs, health plans, and counties, in line with the Cal AIM goals for statewide Managed Long-Term Services and Supports for all Californians participating in Medi-Cal and with the new Office of Medicare Innovation and Integration. This will further the various aging proposals included in the Governor's May Revision and help to deliver on the vision of the Master Plan for Aging, which calls for California communities to build a California for All Ages where people of all ages and abilities are engaged, valued and afforded equitable opportunities to thrive as we age.
Caregiver Resource Centers Funding: $5M enhanced federal funding ($5M TF) One-time Lead Department(s): DHCS with CDA
Family caregivers are the largest group of providers of adult and disability care. This proposal would provide increased respite care, behavioral health services, and other supports to meet intensified needs due to pandemic pressures on families, through 11 Caregiver Resource Centers and 33 Area Agencies on Aging.
Eliminating Assisted Living Waiver Waitlist Funding: $85M enhanced federal funding ($255M TF), $38M ongoing Lead Department(s): DHCS
Add 7,000 slots to the Assisted Living Waiver in an effort to eliminate the current Assisted Living Waiver waitlist while furthering the vision of the Master Plan for Aging. The current Assisted Living Waiver capacity is 5,744 slots; of which 5,620 are filled as of May 1, 2021. There are approximately 4,900 beneficiaries on the waitlist as of May 1, 2021, and an additional 1,300 beneficiaries approved for enrollment in the Assisted Living Waiver but waiting for an available assisted living facility placement to complete enrollment. The proposed addition of 7,000 slots will enable DHCS to provide sufficient Assisted Living Waiver capacity to enroll all waitlisted beneficiaries and to clear pending enrollments while still providing a cushion for continued growth. The proposed commitment to Assisted Living Waiver growth will also likely encourage participation of residential care facility for the elderly (RCFE) and adult residential facility (ARF) providers in the Assisted Living Waiver program, as the waitlist has been previously cited as a barrier to provider participation.
Sources:
https://www.chhs.ca.gov/wp-content/uploads/2021/06/HCBS-Spending-Plan-June-2021.pdfhttps://www.kff.org/medicaid/issue-brief/potential-impact-of-additional-federal-funds-for-medicaid-hcbs-for-seniors-and-people-with-disabilities/