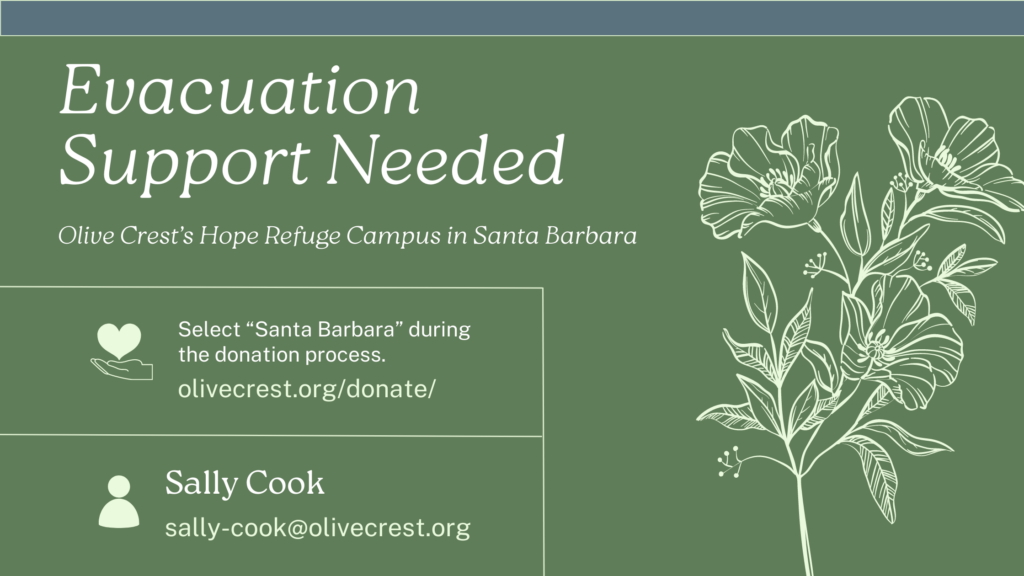 As California experiences relentless rainstorms and potential floods and mudslides, we are saddened to hear Olive Crest's Hope Refuge Campus in Santa Barbara has experienced an emergency evacuation. Olive Crest is a nonprofit organization dedicated to preventing child abuse by strengthening, equipping, and restoring children and families in crisis.
The staff and clients at Hope Refuge have evacuated to a safe space while the storms continue. NASW-CA wishes for their continued safety, and we invite social workers and social work organizations to offer their support. Restaurant or retail gift cards, meals, recreational activities, connections, or donations are just a few ways to provide your support for this vital organization. Any assistance is appreciated!
Interested folks can contact Sally Cook at sally-cook@olivecrest.org with any questions.
If you are interested in financially supporting the Hope Refuge campus, whose location has been damaged by the rainstorms, please select "Santa Barbara" during the donation process.
If you or your organization has been impacted by the floods or extreme weather conditions, please feel free to contact NASW-CA to let us help elevate your need! We are here to support all communities across the state.