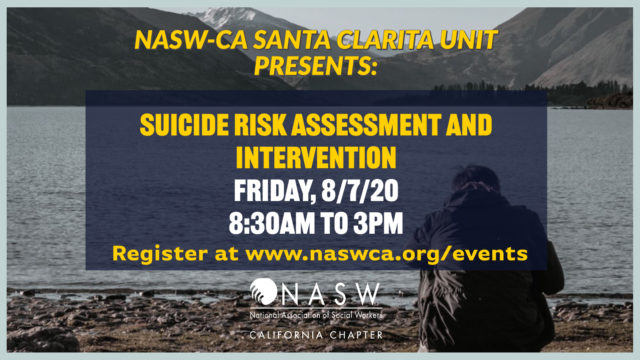 NASW-CA's Santa Clarita Unit is excited to collaborate with the Health Workforce Initiative (Powered by California Community Colleges) and William S. Hart Union High School District Therapeutic Counseling Department, to bring you the required 6-hour CEU training Suicide Risk Assessment and Intervention on Friday, 8/7/20, from 8:30 am to 3 pm (with 30 min break), VIRTUALLY due to the current health restrictions. 
We are pleased to have join us from LA County DMH their phenomenal MET Mental Evaluation Team and START School Threat Assessment Response Team, as well as a hospital social worker with the LPS designation, Alissa Myatt, LCSW. The well-known law & ethics presenter Curt Widhalm, LMFT, will also be presenting on the legal and ethical aspects of suicidality, and the Hart District Therapeutic Counseling Department will be rounding out the training by highlighting developmental, family, and LGBTQ implications of suicide prevention, assessment, and intervention. 
This training meets the BBS requirement for the 6-hour Suicide Risk Assessment and Intervention training, required to be completed before January 2021.
Please register at the following link: https://www.naswca.org/events/EventDetails.aspx?id=1401731&group= 
As this will be a virtual training, please plan to log on starting at 8am to ensure your components are working with our virtual platform Google Meet (ie using Google Chrome on a computer or laptop, or using the smart phone app Google Hangouts). 
PDF Version available here: