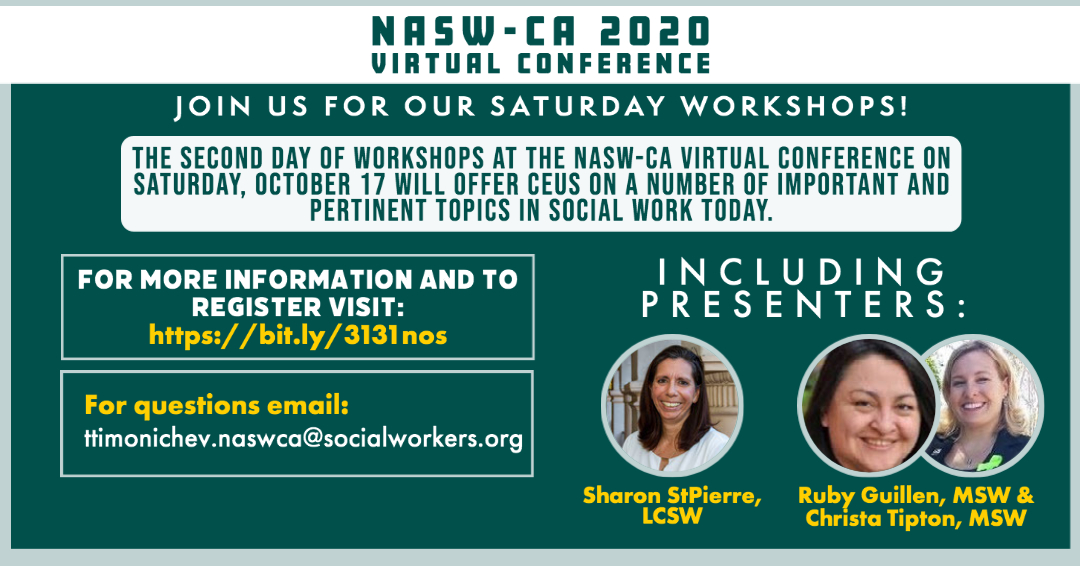 WORKSHOPS ON SECOND DAY OF NASW-CA CONFERENCE
Join us for our second day of workshops at the NASW-CA Virtual Conference on Saturday, October 17th!
Our first session includes, "The 2020 Workforce Development Amidst Disruptive COVID." This workshop will discuss the emergence of the COVID pandemic significantly disrupted many work settings including the mental/behavioral health care fields. This disruption caused employees to be laid off, or furloughed, or sent home to work through remote technology. Leadership from government and private sector companies was important not only at the federal, state, but also local level. The mental/behavioral healthcare workforce mission has been to continue assisting and providing critical and essential services to low-income or other vulnerable populations with co-morbid conditions including the elderly and children.  
Other workshops in this first session include: "Social Work Competence: Decision-Making Capacity of Older Adults," "Using Mindfulness to Overcome Compassion Fatigue and Burnout," and, "Complexities Related to Substance Abuse & Mental Health Among Pregnant Women."
Sharon StPierre, LCSW, will present, "Disenfranchised Grief in Reproductive Loss," in the second session Saturday. Research indicates limited training is provided to clinicians in assessing and helping those experiencing reproductive loss. Participants will receive information on how to begin working with this population and be ready to implement upon returning to work.
Other topics in the second session include: "Organizational Effectiveness, Management, and Leadership of Social Work Programs," "Dare to Change the World: How Social Workers Can Engage in Social Enterprise," "Lessons from Los Angeles County: Social Workers and Critical Missing Persons," and, "Stories of Change: Strengthening Resiliency in Children and Youth via Narratives and Sandplay."
Our NASW-CA Technology Council Co-Chairs Ruby Guillen, MSW and Christa Tipton, MSW, will present in our final session. Their workshop is titled, "How COVID-19 Changed Use of Technology in Social Work." From virtual meetings, webinars, and moving appointments to telehealth, the SARS-CO-2 coronavirus and COVID-19 pandemic had long lasting effects on our usage of technology as social workers. Social distancing changed our delivery of services across the board, including telehealth, education and conferences. This workshop will explore the immediate and long-term effects of the pandemic as well as lessons learned. Social work, disabilities, virtual meetings, telehealth and ethical implications will be discussed.
Finishing out our conference are the workshops, "Culturally Responsive End-of-Life Care with Asian Americans," "Continuing the Healing Journey of Reproductive Loss 102," and "Promoting Gerotranscendence: Connecting Older Adults to Tweens and Teens."
The NASW-CA Virtual Conference is October 16-17. Registration deadline is October 5. Professionals can use the discount code VIRTUAL40 and students can use the code STUDENT40 when checking out.
For more information or to register visit: https://bit.ly/3131nos or email ttimonichev.naswca@socialworkers.org