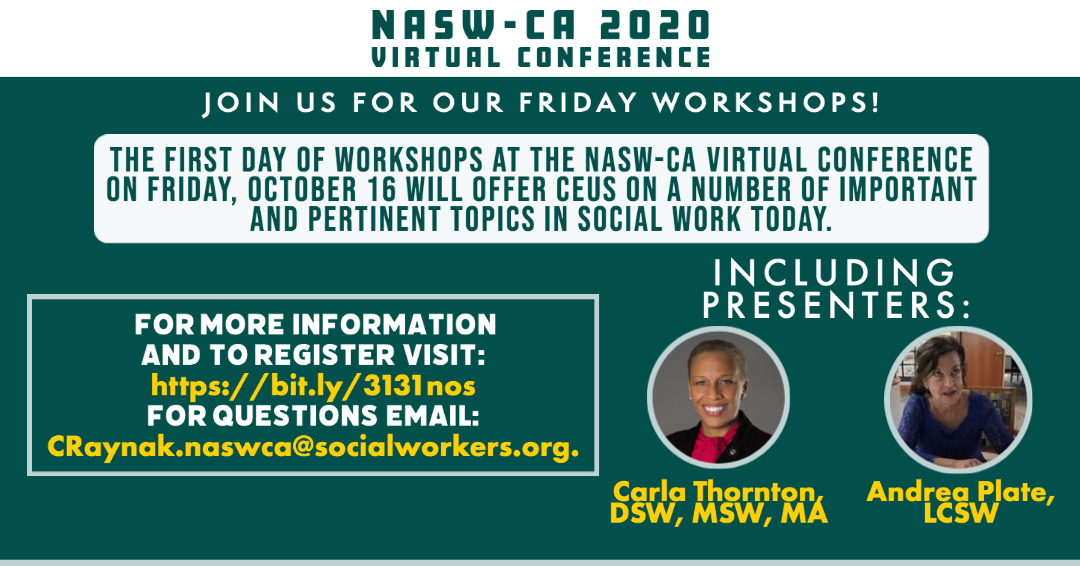 The first day of workshops at the NASW-CA Virtual Conference on Friday, October 16 will offer CEUs on a number of important and pertinent topics in social work today.
Join Carla Thornton, DSW, MSW, MA, that morning, as she presents on "Social Work in Democracy: Engagement in Politics and Policy to Create Social Change." This session is designed for the participant who sees social problems as fundamentally political. We will discuss political social work theories, identify strategies and skills to hold and facilitate discussions across political divides and discuss the ethical responsibility of social workers to engage in political work. The purpose of this presentation is to focus on research that focuses on the use of politics and policy to create social change.
Other topics in the first session include: "Cal AIM, Skilled Nursing Facility Diversion/Transition and Managed Long-Term Support," "'Do You Have WiFi in here?': Teens, screens, and the Therapeutic Space," and "Resolve Inner Turmoil and Outer Conflict Using the Connection Practice."
The second set of sessions include, "Improving Perinatal Mental Health in Primary Care Settings," "A Physician's Perspective on Medical Aid in Dying, and the Role of the LCSW as Navigation," and "The Need for Love and Connection Through the Lifespan."
The third and final session of the day concludes with Andrea Plate, LCSW Presenting, "No Man or Woman Left Behind: How Social Workers Serve America's Wounded Warriors." Plate will present on challenges in treating a diverse range of veterans from the Vietnam Era to today's "forever wars," including specific concerns related to age, gender, gender identity, race and military sexual trauma. The presentation will be based largely on her new book MADNESS: In the Trenches of America's Troubled Department of Veterans Affairs.
Also in the final session: "Working with Trauma: Impact on the Professional," and "Cultural Competency in Disaster Mental Health."
The NASW-CA Virtual Conference is October 16-17. Registration deadline is October 5. Professionals can use the discount code VIRTUAL40 and students can use the code STUDENT40 when checking out. For more information or to register visit: https://bit.ly/3131nos or email: CRaynak.naswca@socialworkers.org.