In an effort to bring awareness to the forefront, and align previous and current reform efforts, the NASW-CA's Rehabilitation and Inclusion Council would like to engage NASW members and Community members and partners.
The Rehabilitation & Inclusion Council seeks to promote and attain parity in career and higher education opportunities for rehabilitated persons with criminal records through social and political action.
We are social workers dedicated to ensuring our NASW Code of Ethics universally applies to both our colleagues and the clients/consumers we serve.
Every month, the Council will introduce one of their member's short bio. We embark on this journey to encapsulate the face of rehabilitation in an effort at DE-stigmatizing students and professionals with criminal records who have since rehabilitated. We invite NASW members, Community members and Community partners to dialogue. Contact ricouncil@naswca.org.
Meet Council Member Ana Ramos, ASW, CATC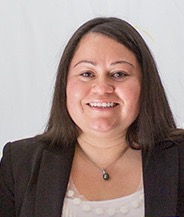 "When I was 21 years old, I made an unsafe choice and at my friend's request, I drove her car to my house after a New Year's Eve party. This was my first time drinking and driving and, on my way, home I was stopped and arrested for driving under the influence (DUI) by the Los Angeles Police Department. I was later prosecuted and charged with a DUI and even though this judgment continues to have negative impacts on my livelihood 1years later, I feel blessed to have been stopped and that I did not hurt anyone or myself. Reflecting on the incident, I recognized the need for early education and prevention of underage drinking and drinking responsibly for adolescents and young adults, something I never had access to.
During those 18 years, I have always held a full-time job, purchased a new vehicle, moved into my own apartment and became a United States citizen. I am the first member of my family to have always studied part-time at night, and earned an early childhood education certification, a Bachelor of Arts degree in human development, with a concentration in developmental education, an alcohol and drug studies certification, and a Master's of social work with a concentration in community organization, planning and administration, while simultaneously mentoring young women of color, advocating and volunteering for equity in the field of early childhood, special education and mental health for marginalized populations and undeserved communities.
Because of my criminal conviction, I have faced various obstacles such as being denied critical internship placements that will impact the course of my career as well as being granted my associate social worker (ASW) number in order to accrue hours towards my goal of becoming a licensed clinical social worker. This was not only detrimental to my livelihood, but it only adds to the cycle of continuous strain many of the clients I wanted to work with face every day of their lives, without the various support systems or level of functioning I had to overcome such obstacles.
Because of these reasons, I have taken it upon myself to step in to my power and reach out to others who are facing or have faced similar difficulties and become an advocate for changing the processes that constitute criminal convictions for social workers and other caregiving professionals who wish to be agents of change and empower our communities, because when we empower our communities, we all thrive together."