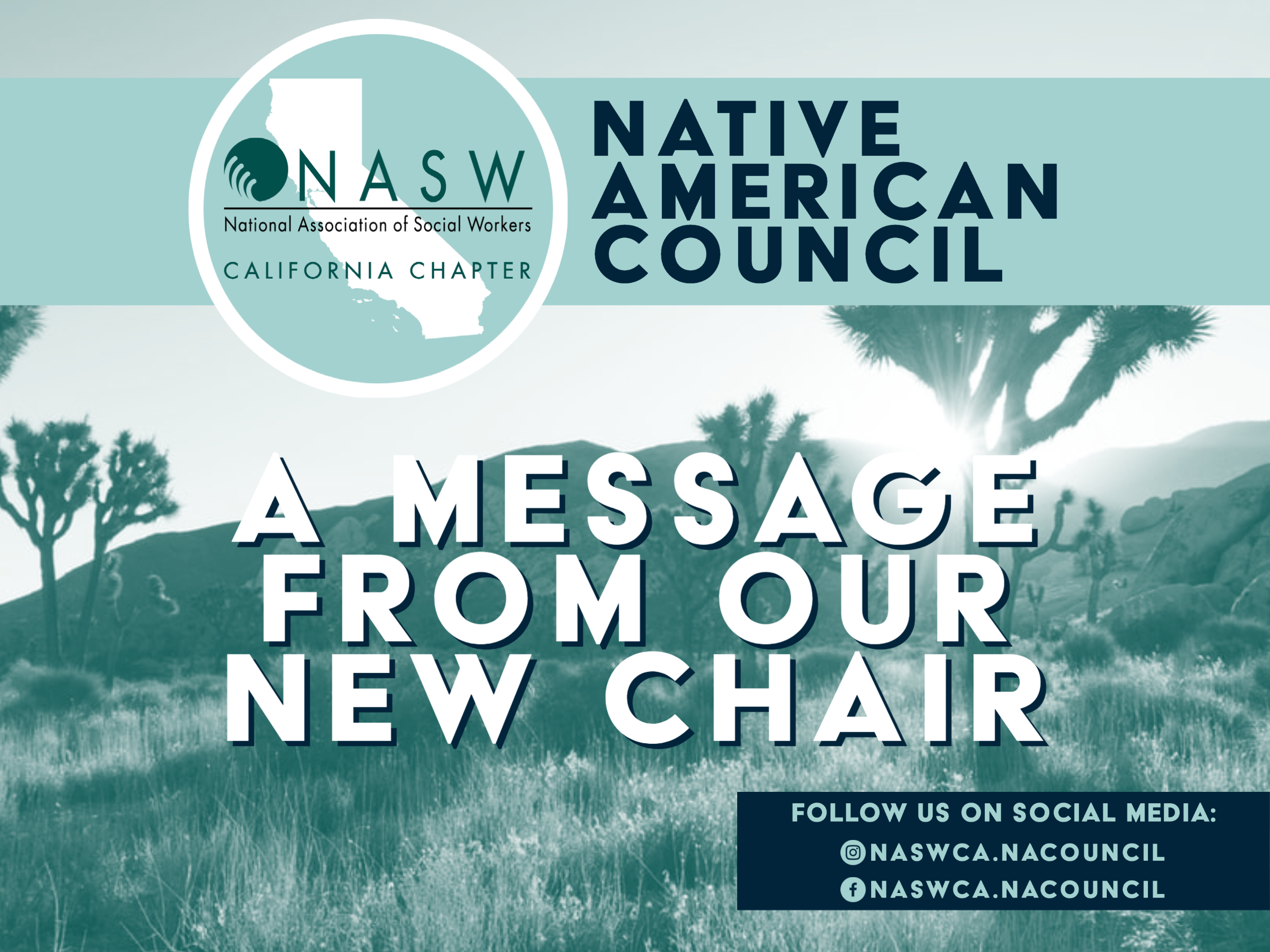 Hakanee Mum! Ne Nanehant Shurene Premo, Ne Tokka Pati Nythe. Hello everyone! My name is Shurene Premo, and I am from Duck Valley, Nevada. I come from the Great Basin Territory, representing the Newe-Numa (Shoshone Paiute) Nation. I am carrying the Tosa Wihi (White Knife) band of Western Shoshones in my bloodline. I want to thank the National Association of Social Workers (NASW) California chapter for this beautiful opportunity to support and advocate for the Indigenous Nations of California and all Nations in Indian Country. It is a true honor.
My educational background has been a beautiful road in my life and I do this for all Indigenous Nations and especially for the Tokka Pati Newe-Numa Nation. I graduated with an Associate of Arts degree in Social Work from Cuyamaca College in the year 2016. I have a Bachelor of Arts in Liberal Arts and Sciences in Social Work and American Indian Studies, and I graduated in the year 2019 from San Diego State University (SDSU). Lastly, my proudest accomplishment is achieving my Master of Social Work (MSW) degree in 2020 from SDSU, where I was in the Advanced Standing MSW program. I am the 10th Native American Woman MSW Title IV-E graduate since 1993 from SDSU. I am also acquiring credentialing through the California Consortium of Addiction Programs and Professionals (CCAPP) to become a Licensed Advanced Alcohol Drug (LAADC) Counselor as well as my Associate Clinical Social Worker (ASW) licensure with the end goal of being certified as a Licensed Clinical Social Worker (LCSW). Obtaining a higher education has saved my life. I am breaking intergenerational cycles which stem from historical trauma so our future generations can thrive. Our children are our future generations and will be the leaders in Indian Country. We must show them we are strong people, and we can do that by passing on our culture, language, traditions and breaking barriers by striving for higher education.
I am currently the new NASW CA Chapter Native American Council chairwoman. I am excited to start work with you all. Please feel free to email me and say hello, and this is an open conversation for the Native American Council Members and allies. I look forward to working with all of you, and I am honored and humbled to know that the NASW-CA Chapter represents Native Americans! We first would like to pay honor, respect, and homage to the first people of this land to all the California Nations. What a remarkable representation for Native Americans, Alaska Natives, First Nations Peoples in Indian Country! With all honor and respect and walking in a good way and with a good heart, our council will be advocating for many vital issues and disparities that Native American peoples face, such as poverty, Substance Use Disorders, Indigenous Student support, highest suicide rates in the Country, the Missing and Murdered Indigenous Peoples epidemic, Mental health, the Indian Child Welfare Act, and land and environmental support among other essential topics. The time is now for us to rise up and let our voices be heard. We no longer blame our past; however, it must be acknowledged for healing. As a council, we will support our communities and Indigenous Nations in healing intergenerational trauma that has been passed down from historical trauma. We speak up and support utilizing our oldest form of healing during this time by revitalizing our traditions, cultures, and language. We can and will heal ourselves.
Thank you for your time, and I hope to hear from you all soon! Let us all come together and represent the NASW CA chapter Native American council in a good way, Ose!
The Native American Council is now also on social media! Follow us on Instagram and Facebook for more information on upcoming events and ways to connect with other Native American social workers in California!