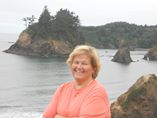 Debbie Wingate, MSW candidate from Region D
By S. Jolene Hui, MSW, LCSW, Membership Director
By simply talking to Debbie Wingate, you can tell that she is passionate about the social work fiel
She has been working in the field for nearly 25 years since 1992. For the past four years she's been working as a child welfare social worker for Plumas County in California. She has also worked as a professional advocate for children and adults with disabilities and was a court appointed special advocate (CASA) in both California and Virginia.
"The training I received during my tenure at these paid and volunteer positions helped to provide a plethora of experience for my position as a social worker today," she says.
In addition to a being a county employee, she is currently an MSW student in the California State University, San Bernardino distance education program. It was there that she learned about NASW from her professors and signed up for membership in her first quarter of attendance.
"I knew from that moment that I wanted to become a member of NASW, particularly to advocate on behalf of social issues, social justice, and with other social workers nationwide," she recalls.
A strong supporter of NASW, Wingate is enthusiastic about advocacy and is not shy about it.
"NASW is very important for social workers to stay abreast of the latest trends in the social work field, to advocate at the local, state, and national level for issues that impact the social work field and social justice and generally gather good information about our line of work.
Wingate is humble about her many accomplishments and shared that she sustained a traumatic brain injury (TBI) from a car accident that affected her cognition. Because of this, she is especially proud of completing her undergraduate and first graduate degree, while working full-time and notes that her ongoing professional accomplishments also make her proud.
She says, "Professionally, I am also proud of every successful adoption that is accomplished in our county and also of every family that is successfully reunified with their children.  There is nothing more satisfying—as a social worker—than to work with a family in reunification services and to witness the culmination of all their hard work as they are reunified with their children and are resilient and stronger.  It's a great feeling! "
To new social workers, Wingate offers this advice."Enjoy what you do to change the lives of children and their families every day in every way. Systems change starts with one person, a social worker could be that one person! Social workers are superheroes!"
Once she graduates, Wingate would like to apply for the program manager position where she currently works. Of her future she said, "I aspire to be an effective and compassionate child welfare program manager in our county who can mentor social workers to promote resiliency and safety for the children of Plumas County."
Jolene Hui, LCSW, is NASW-CA's membership director and can be reached at jhui@naswca.org.