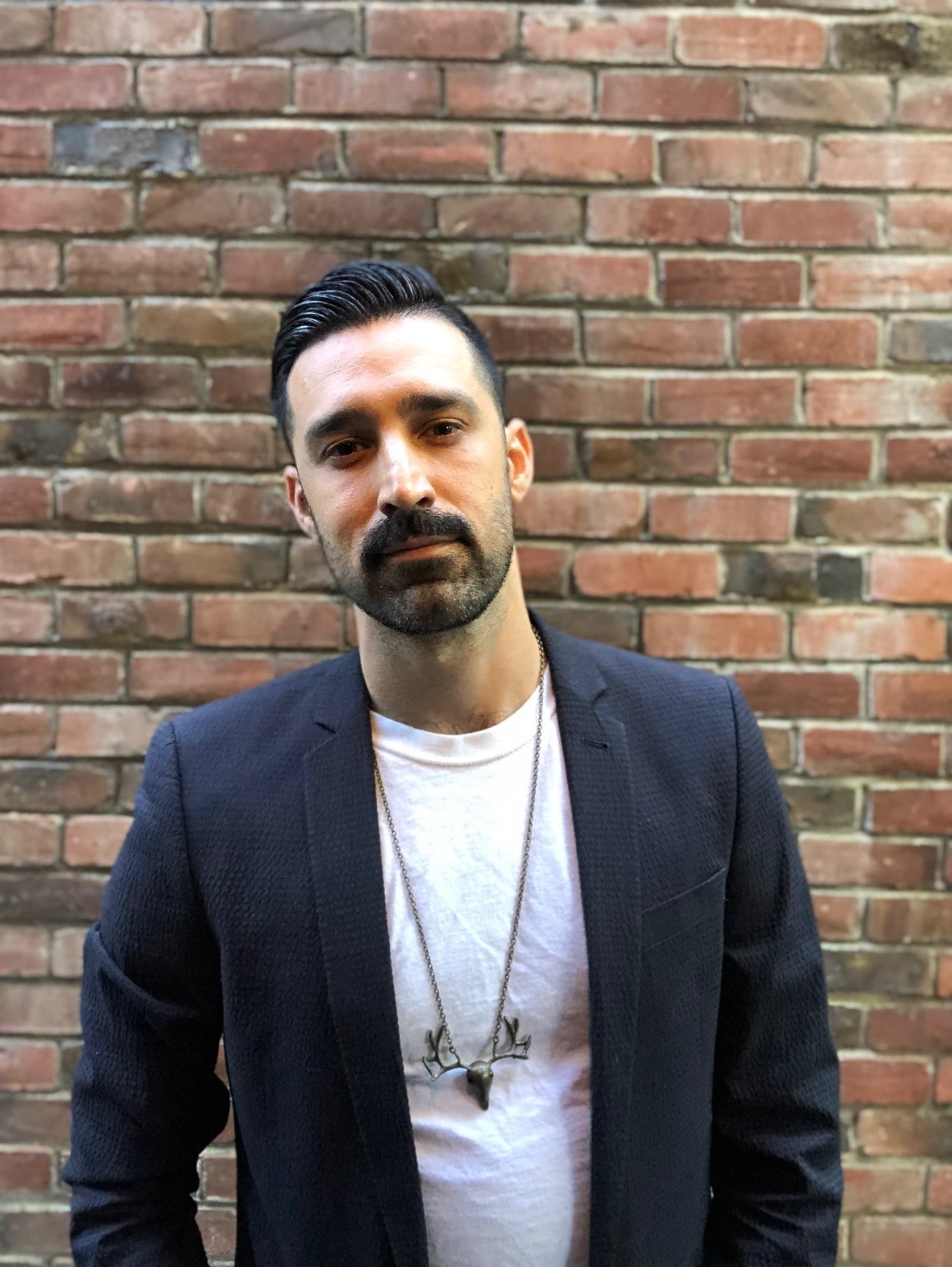 My name is Alejandro Contreras, I am originally from sunny Santa Barbara, CA and moved up to the Davis/Sacramento area at 17 where I attended the University of California, Davis. Originally, I had planned to graduate with a degree in animal science. However, life had different plans for me.
After withdrawing from UCD and doing a bit of self-discovery for a few years, I enrolled at Sacramento City College and received my associate degree in sociology, and then transferred to Sacramento State University where I earned by bachelor's degree in social work in 2013.
I am a first-generation, U.S. born child of Mexican parents who are originally from the area of Guadalajara, Jalisco. My father and mother immigrated to the U.S. in their early twenties and established themselves in Santa Barbara with other family members. My father worked in gardening, landscaping and field work, and my mother worked as a house cleaner and childcare provider for friends and family. I have an older and a younger brother making me the middle child.
I was very lucky to grow up in Santa Barbara as it provided me with a strong connection to family and access to a great public education. I am proud to be the first in my family to achieve a higher education. I am also a proud member of the queer community and live at the intersections of being a queer man of color, which has provided me with a rich-lived experience and has made me a more effective social worker.
I work at the NASW-CA as an MSW intern assisting our Director of Legislative Affairs, our Legislative Coordinator, and our Executive Director with bill monitoring, attending committee and floor hearings and lobbying for certain budget asks and bill support, attending coalition meetings, outreach events, and supporting with other administrative functions, as well as the preparation for the Annual NASW-CA Lobby Days event.
I am currently attending the University of Southern California where I am in my final year of my Master of Social Work program, with a focus of social change and innovation, which will allow me to be at NASW-CA until May 2020. I hope to use the skills and knowledge I gain while at NASW-CA, and in my program, to impact policy at the local and state level and to establish and evaluate programming that affects priority populations in California.
In my current work and for the last six years, I have worked as the director of healthcare services at Gender Health Center serving primarily the transgender community. I am also a '18-'20 research fellow at the California HIV Policy Research Center where I am creating a rapid-response project to understand and inform policy that affects people living with HIV. I have previously worked as an afterschool para-educator for K-6 students, and I have been a board member for the NorCal AIDS Cycle and a continued advocate, activist, educator in the Sacramento area.
You can reach Alejandro at AContreras.naswca@socialworkers.org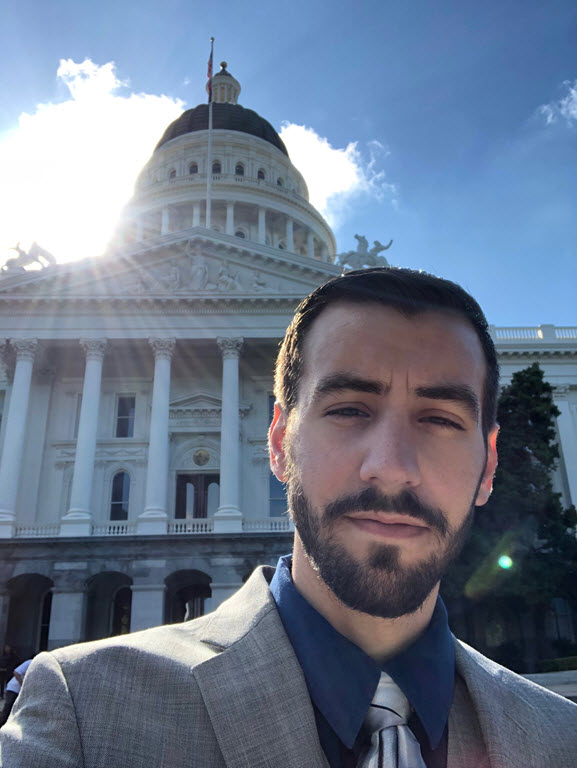 My name is Jacob Fraker. I was born in raised in Sonora, which is a rural conservative town of 6,000 people located in the heart of a very conservative district. I am a member of both the rare disease community, as a person with cystic fibrosis, and a member of the LGBTQ+ community.
These identities, along with my progressive liberal mindset, created a situation for me wherein I found it next to impossible to imagine a life where I would be able to be the person I wanted to be. Without proper guidance and support, I was unable to help myself and that inability to help myself drove me to provide help and assistance for others.
In elementary school, I aspired to be President of the United States of America, but at the time there were no out LGBTQ+ politicians, causing me to abandon my dreams of elected office. Starting in high school I began working and volunteering for two nonprofits in my county, the Center for a Nonviolent Community and the Amador Tuolumne Community Action Agency. I worked to address bullying, sexual assault, and stereotypes on school campuses county-wide.
This continued all through high school and into my time at Columbia community college. In community college, I struggled to find direction. I knew I wanted to serve people, but how I wanted to do that was beyond me. My lack of direction, chronic disease and internalized homophobia and oppression led to depression and deteriorating physical health. That is when I turned to my medical social worker for help. She helped me create a plan to get my physical and mental health, as well as my education back on track. As we worked on seeing that plan through to fruition, she began to counsel me to pursue my degree in social work. Until that time, my knowledge of social workers was limited to medical social work and child welfare social workers. While I had some doubts about the idea, I had absolute trust in my social worker. So, I applied to San Jose State's social work program following my graduation and was accepted.
Upon leaving for San Jose to begin my Bachelor's degree, I came out to my family. And while I lost my relationship with my father, I gained a new relationship with myself and the rest of my family. When I started at SJSU, I intended to become a medical social worker in the footsteps of my own social worker. Those plans would all be thrown out the window after I attended my first NASW-CA Lobby Days in the spring of 2017. I was a team leader that year, the only team leader from SJSU, and was thrown into the thick of it. I absolutely loved it! The fire for politics that I thought had long been extinguished, was renewed and blazing. Assemblymember Susan Eggman was the keynote that year, a LGBTQ woman of color fighting for social justice and who also happened to be a social worker. From then on I become a macro-level social worker. That summer I would go back to Sacramento as an Equality California Fellow in the office of Senator Henry Stern. After that, I reached out to Cystic Fibrosis Research Inc, a nonprofit working on behalf of people with cystic fibrosis, and offered my services as a legislative associate, which they gladly accepted. I am currently working on my MSW at UC Berkeley specializing in macro social work.
I took this incredible internship opportunity with NASW-CA this summer as a way to better prepare myself for my second-year internship as a legislative aide with none other than my hero Assemblymember Susan Eggman. I am honored to fight and advocate for social workers and the communities they serve at the macro level.
You can reach Jacob at JFraker.naswca@socialworkers.org