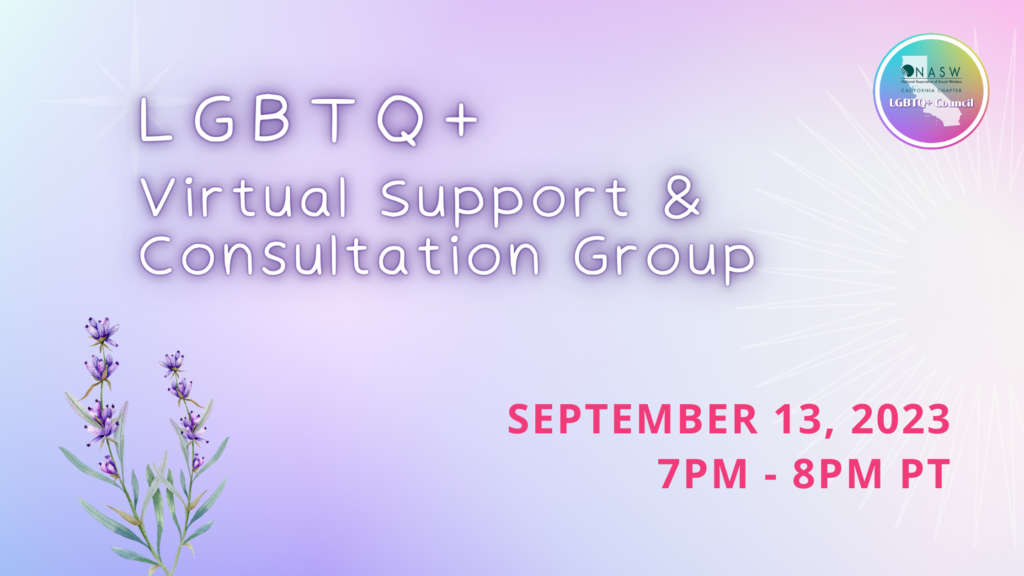 The LGBTQ+ Virtual Support & Consultation Group is an opportunity to meet regularly with other social workers working in the field, share resources, build community, and find support.
The group is free to attend and open to all California-based social workers. Students are also welcome, and NASW-CA membership is not mandatory. Three case consultation slots are available per meeting for social workers seeking guidance working with LGBTQ+ clientele. Please note, the purpose of this meeting is not to offer supervision, but to provide an opportunity to consult with fellow clinicians.
This month's gathering will meet on Wednesday, September 13, 2023 from 7:00 pm – 8:00 pm PT on Zoom. Participants will be emailed the Zoom link upon registration. Please contact the organizers if you don't receive the link. To apply for a consultation slot at the next meeting, contact organizers Ehsan "Essy" Knopf (he/him) at ehsan.knopf@gmail.com or Verna Barrientos (she/her) at verna.n.barrientos@gmail.com.
Please contact Verna at verna.n.barrientos@gmail.com or Essy at ehsan.knopf@gmail.com for any questions about NASW-CA's LGBTQ+ social worker support group.