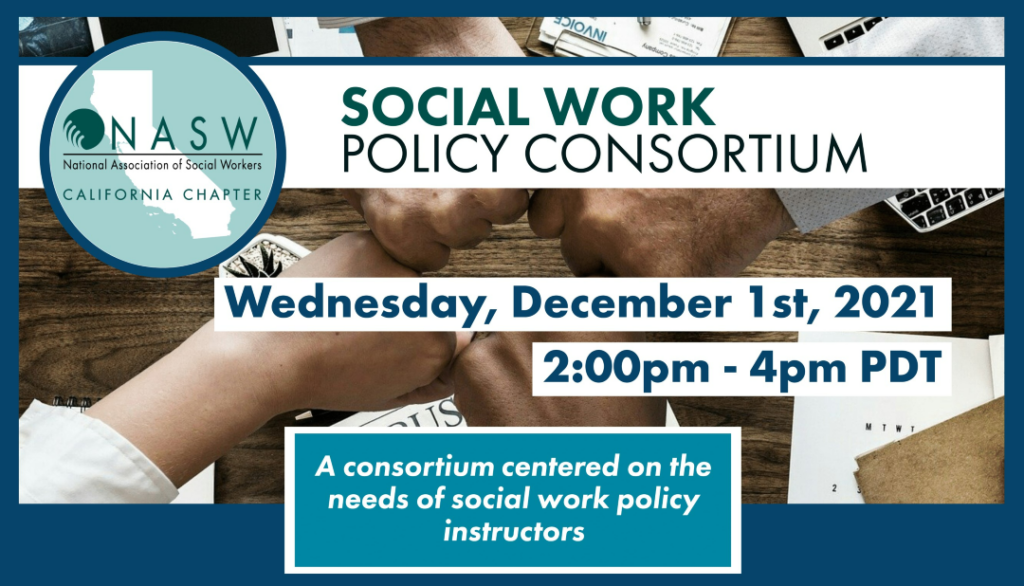 This consortium was built with the intent to center the needs and network of social work policy instructors. Consider joining us in this statewide space to convene, connect, and collaborate in the movement to build and strengthen the world of social work policy.
Hear a Legislative Recap from Social Workers on the frontlines at the capitol. Our panelists will share insider tips and insights about how to move social policy and how to get involved in hot social justice topics. Join us to gain connections to support students who want to carve a pathway to the state legislature!
When: Wednesday, December 1st, 2021 from 2:00pm – 4:00pm PDT
Who: Come join our statewide consortium – membership not required; all social work policy instructors and allied educators are welcome.
Guest Speakers:
Alicia Hatfield, MSW – Legislative Aide
Anna Billy, MSW – Policy Analyst
Jacob Fraker, MSW – Senate Consultant to LGBTQ+ Caucus
Office of California State Senator Susan Eggman
If you have any questions, please email contact@naswca.org
A shareable PDF flyer is available below for download: