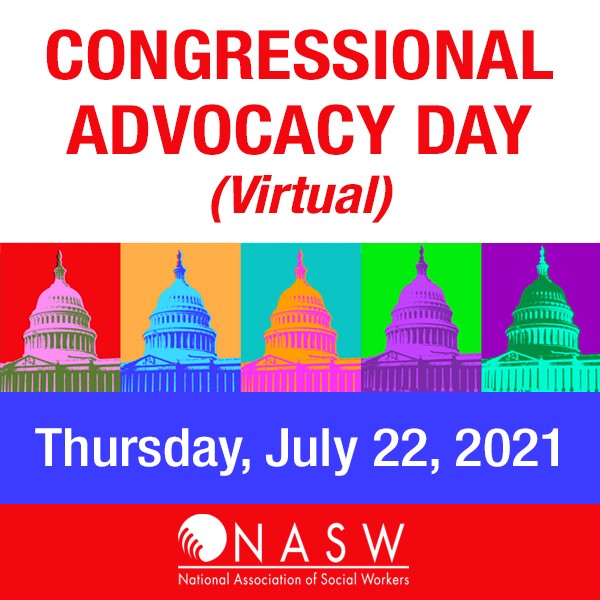 Please join us on July 22 to advance critically important congressional legislation that will strengthen the social work profession and the clients they serve. This is a key opportunity to meet with your congressional delegation, educate them about the value of social work and social workers, and to gain their support for priority legislation.
NASW will schedule and prepare you for your meetings. So, if you have never met with your lawmakers and/or their staff, don't worry – we will make sure you are fully briefed. The most valuable thing you will bring to these meetings is your personal and professional experience as a constituent and social worker in your community. You know best the challenges you and your clients face, and the supports that are needed. Members of Congress look forward to meeting with their constituents and need to hear from them directly before they sign on to NASW's priority legislation.
Legislation will include, but not limited to, the Improving Access to Mental Health Act (S. 870/H.R. 2035), which will:.
Increase Medicare Reimbursement Rates for Clinical Social Workers (CSWs): The bill increases the reimbursement rate from 75% to 85% of the physician fee schedule, thereby ensuring payment parity and equity.
Increase Access to Mental Health Services for Residents of Skilled Nursing Facilities (SNF): Currently, independent CSWs who are not employed by the SNF are unable to seek reimbursement under Medicare Part B for providing psychotherapy services to SNF residents receiving care under Medicare Part A. The legislation will rectify this problem by excluding CSW services from SNF consolidated billing.
Increase Supports for Medicare Beneficiaries Coping with Physical Health Conditions: Although Health and Behavior Assessment and Intervention (HBAI) services are within the scope of practice for CSWs, Medicare currently only reimburses CSWs for the "diagnosis and treatment of mental illnesses." S. 870/H.R. 2035 would broaden this narrow definition of CSW services to enable CSWs to receive Medicare reimbursement for HBAI services, which are cognitive, behavioral, social and psychophysiological interventions to prevent, treat, and improve physical health and well-being.
As a participant, you will receive a virtual briefing on the event, including talking points and materials. This will be held on July 13, 2021, from 2:00 to 3:00 pm ET. If you are unable to attend at that time, you may watch the event recording at your convenience.
Virtual congressional meetings will take place between 9:00 am to 5:00 pm ET on July 22, 2021. We will schedule meetings based on your residential time zone. You can anticipate up to three 15-30-minute meetings.
To register for the event, please click HERE. Registration is $25. Space is limited, so please register early. Participants will be able to register on a first-come, first-served basis.
Questions about the Congressional Advocacy Day can be directed to NASW Senior Field Organizer, Dina Kastner, at dkastner.nasw@socialworkers.org.
We look forward to "seeing you" at this advocacy event and thank you in advance for your participation!