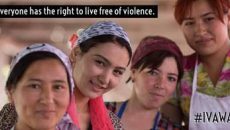 NASW has issued a statement to welcome the introduction of the International Violence Against Women Act (IVAWA) in the Senate.
Along with other members of the Coalition to End Violence Against Women and Girls Globally NASW urges Congress pass this legislation quickly.
For more information on this legislation, contact NASW Senior Practice Associate Rita Webb at rwebb.nasw@socialworkers.org.