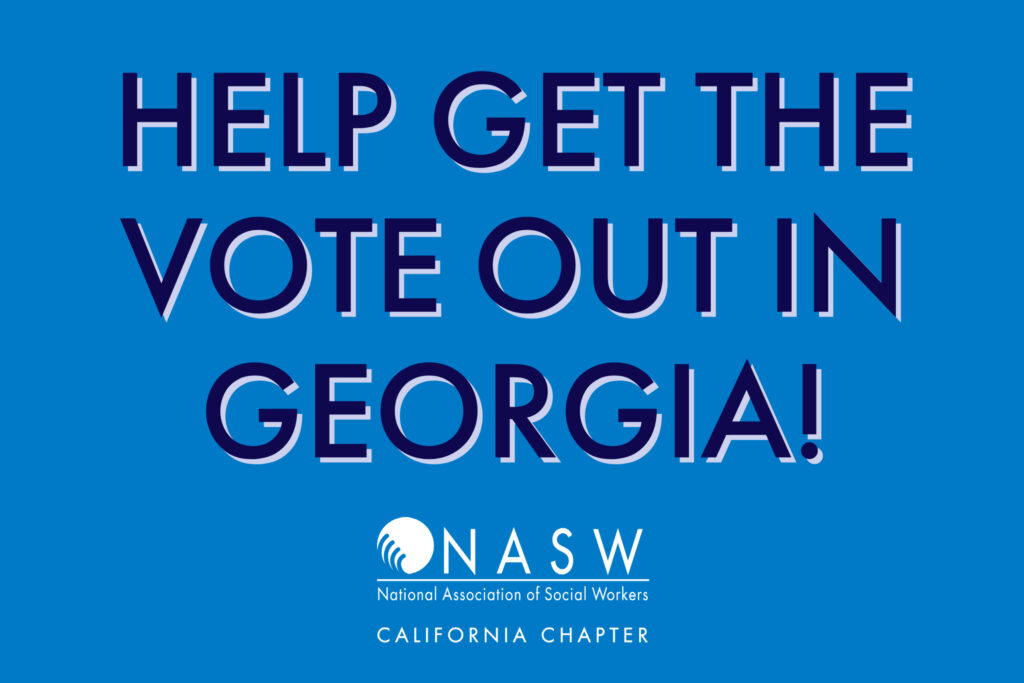 On January 5, 2021, Georgia will be holding two runoff elections for both of their U.S. Senate seats. Incumbent Republican David Perdue faces off against Democratic challenger Jon Ossoff. Incumbent Republican Kelly Loeffler faces off against Democratic challenger Reverend Raphael Warnock.
NASW and social work leaders urge all social workers to help Get Out the Vote, and Georgia social workers to vote in the runoff.
IMPORTANT DATES
Early voting begins on December 14, 2020
*Runoff Election Day*: January 5, 2021
Here are some nonpartisan efforts to Get Out the Vote.
Action Network
"Works in voter suppression states to reinstate disenfranchised voting rights for millions of eligible votes especially voters of color."
Opportunities: post carding, phone banking, and texting
Volunteer form here
All Voting is Local
"Working to build a democracy that works for us ALL. We fight to dismantle barriers to the ballot well before the next election so that every voter can cast a ballot that counts"
Volunteer form here
American Civil Liberties Union of Georgia
"The ACLU of Georgia envisions a state that guarantees all persons the civil liberties and rights contained in the United States and Georgia Constitutions and Bill of Rights."
Opportunities: Virtual: Phone banking, texting
In person: being a legal observer, being a poll observer
Volunteer form here
Black Voters Matter
"Our goal is to increase power in our communities. Effective voting allows a community to determine its own destiny."
Opportunities: Option of texting, phone banking, social media campaigning, post card writing, and fundraising. GA resident specific: Empower app
Volunteer form here
Fair Vote
"a nonpartisan champion of electoral reforms that give voters a stronger voice and a representative government that works for all Americans."
Volunteer form here
League of Women Voters
"fighting to improve our government and engage all Americans in the decisions that impact their lives."
Opportunities: Canvassing form here, can also email Imschwartz58@gmail.com
National Equality Action Team
"phone banking to get out the vote for the January special election."
Opportunities: You can sign up to partner with NEAT and our friends in Georgia on this action here
New Georgia Project (virtual and in-person opportunities)
"The goal is to ensure that all young voters in each community are engaged, and informed."
Opportunities: phone bank, canvassing, data entry/admin/other
Volunteer form here or email Volunteer@NewGeorgiaProject.org
Vot-ER
"We are a nonpartisan, nonprofit organization. Our goal is to provide patients the opportunity to register to vote, because much of our healthcare system and healthcare experiences are determined by the policies our elected officials implement."
Opportunities: Ensure your clients have a plan to vote. It's as simple as giving your client the QR code and letting them scan it on their phone. The site guides them from there.
Volunteer form here
Voting is Social Work
"Strives to integrate nonpartisan voter registration and engagement into social work education and practice."
Information here
When We All Vote
"When We All Vote is a non-profit, nonpartisan organization that is on a mission to increase participation in every election and close the race and age voting gap by changing the culture around voting, harnessing grassroots energy and through strategic partnerships to reach every American."
Opportunities: Join the team to share important social media updates and graphics with your friends, family and online networks regarding the Georgia runoffs!
Volunteer form here
Make a plan to vote and find an early vote activity near you here