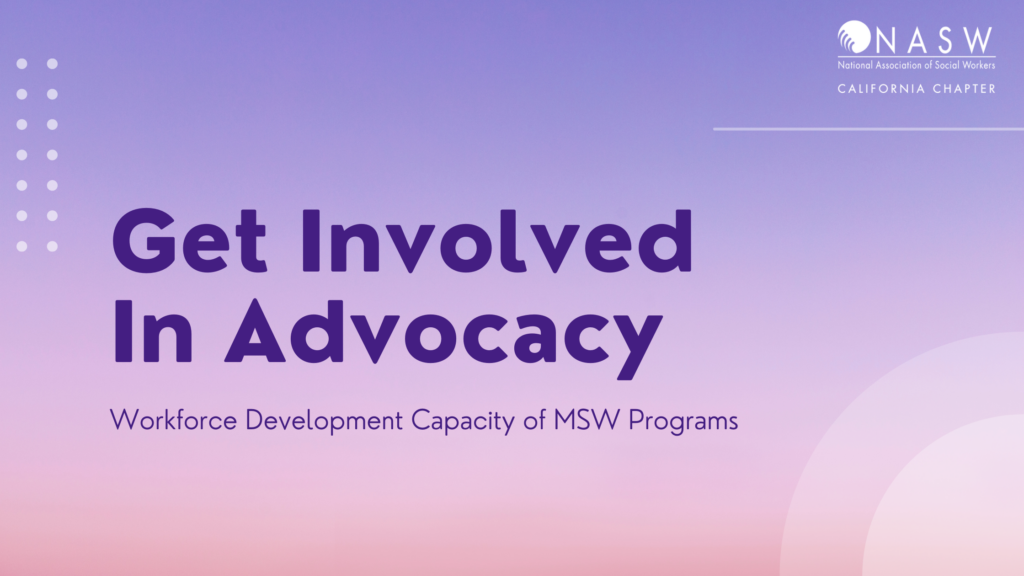 Dear Social Work Partners & Allies,
The National Association of Social Workers, California Chapter, in collaboration with the County Welfare Directors Association, SEIU California, and the California Association of Deans & Directors of Social Work Programs has actively been engaged in advocacy for the California state budget FY 2022-23 to include funding for addressing the social work workforce shortage by building the capacity of social work programs to graduate more individuals with a Masters in Social Work (MSW) AND break down the barriers for diverse individuals to access and succeed through the educational systems. The Governor's May budget revision is fast approaching, and we need your collaboration in co-building a groundswell of support!
Here are ways for you to advocate:
1. Submit a letter on official organizational letterhead by May 6th expressing your strong support for this critical investment to ensure our communities can access the behavioral health and human services they need and deserve. A letter template is provided below. Emails/Letters should be sent to: Senate Budget Subcommittee #3, SBUD.Committee@senate.ca.gov. You are also welcome to draft your own letter or email. Some tips include:
Reference our proposal called the "Workforce Development: Build Capacity for Masters of Social Work"
Describe the need and the benefits of the proposal (you can find talking points in the letter template provided)
Be concise and limit content to about a page
Share information about yourself, your work, and/or a personal story to articulate your connection with the cause
Express gratitude for the consideration
2. Voice your strong support! Our proposal will be heard at the Senate Budget Subcommittee #3 hearing on May 10th. There will be an opportunity to call in at the end of the meeting. Advocates are given a brief amount of time so plan on keeping your comments short and consider sharing a personal story. The budget is decided by a smaller number of members so calling into the hearing is one of the most impactful ways to vocalize your support. Check back here to learn the access information for the hearing. You can also watch the hearing live!
3. Raise visibility of the need and the workforce proposal by posting about it on social media platforms using the hashtag #MSWCapacity #CABudget and tag members of the Senate Budget Subcommittee #3, the Governor, and NASW-CA. Handles provided here:
Hashtags: #MSWCapacity #CA Budget #NASWCA
State Leader Handles: @CAgovernor @GavinNewsom @SenSusanEggman @senatormelendez @DrPanMD @NASWCA
Sample content: Our communities deserve a thriving workforce. Public agencies and nonprofits are struggling to fill their social work roles. That's why I am joining @naswca in advocating to build the capacity of MSW programs and strengthen the pipeline for a diverse workforce. #MSWCapacity
NASW-CA stands at nearly 9,000 members strong. Consider joining us in our journey to ensure our profession stands strong, supported, and thrives in every setting that has the capacity to positively impact our communities.
Thank you for your work, your inspiration, and your partnership.
Sincerely,
Your Team at the National Association of Social Workers, California Chapter
---
View Letter Template below:
Letter Template: Delete/edit the highlighted portions before you submit to SBUD.Committee@senate.ca.gov.