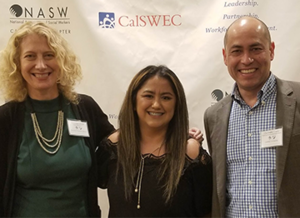 Congratulations to Fresno University MSW student Yenifer Gallegos-Mejia, winner of the 2018-19 CalSWEC Infographic contest!
Ms. Gallegos-Mejia received a check for $250 and her framed winning infographic of the contest topic "The History of U.S. Social Work as a Profession." Her winning entry is posted on CalSWEC's website in the Infographics section under Additional Resources in Resources.
The winning entry was announced April 25 at the CalSWEC Title IV-E Summit in Long Beach. The contest, which ran in February, is conducted by CalSWEC in partnership with the Image Council of NASW-CA.
Thanks to all the contest entrants, the panel of judges from NASW-CA and CalSWEC, and the NASW-CA Image Council for funding the award.
Questions? Please contact Christopher Cajski at calswec_tech@berkeley.edu.