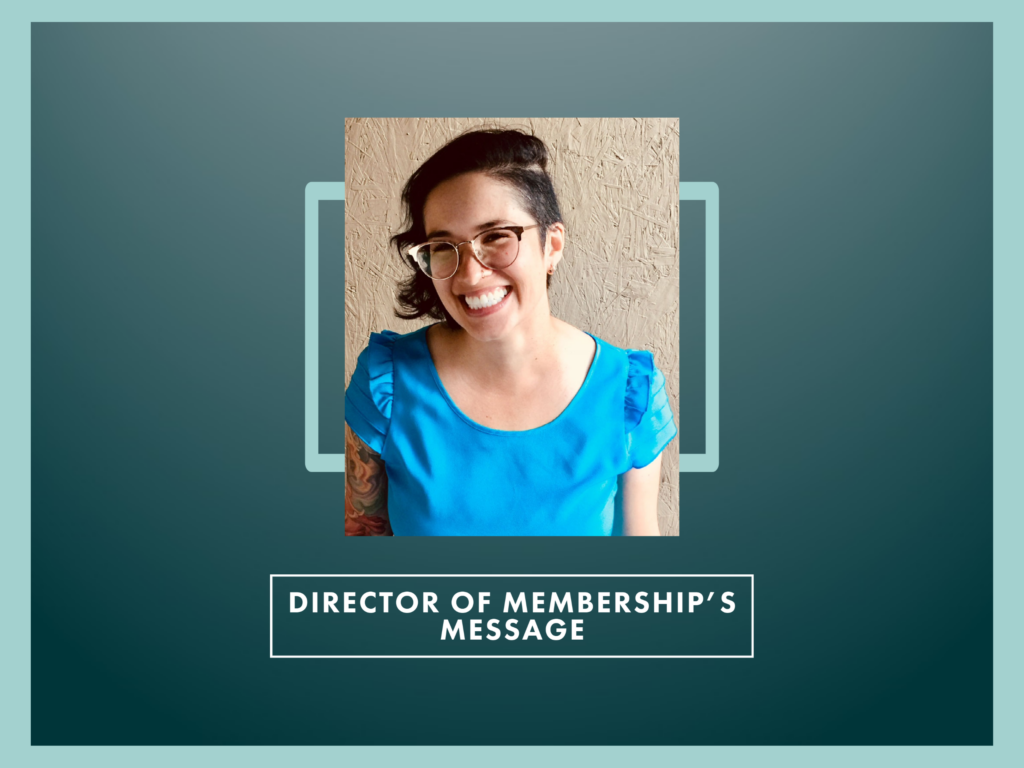 By S. Jolene Hui, MSW, LCSW
NASW-CA Director of Membership
When I joined the staff at NASW-CA, my daughter was a baby. Now, she's eight years old and I have a younger son. NASW-CA was with me as my family grew and helped me expand my professional skills on an exponential level. It's hard to believe that my babies are growing up and my time here is coming to an end.
After nearly eight years on staff with NASW-CA I will be transitioning out of my role as Director of Membership. As the lack of available mental health therapists continues and worsens in this post-still-in-pandemic world, I'll be stepping into clinical work full-time to do what I always intended to do, be a therapist.
I went to grad school with the intention of being not only a therapist, but a sex therapist. I was very sure that this was what I wanted to do. It was the reason I applied to MSW programs. I wanted to be a therapist but wanted the social work education that really looked at people in their environments and viewed individuals as but a small part of a network of complex systems. Once I started my MSW program at UCLA, I realized that the world of social work is so vast. I knew then that my social work journey would not be the exact one I had planned. My first-year placement in Skid Row in downtown Los Angeles got me excited about all the possibilities for my career. While I wanted to stick with mental health, I realized I didn't want to limit myself to private practice. For my second year I went to Twin Towers Correctional Facility and was subsequently hired there. I still miss my work and clients there.
Over the years I have been surprised at the things I have learned from my role at NASW-CA. Although it's technically a macro social work position it's given me the opportunity to sharpen my clinical skills – through group facilitations, ethical consultations, member phone calls, and everyday interactions. Also, over the years I have learned to be an effective presenter – something that has enhanced my teaching skills.
I have met many wonderful social workers while on this journey. I've seen social work students become fully licensed and grow so much professionally. I've supervised interns who are colleagues that I look up to now. I've made so many wonderful friends. NASW-CA has become so much a part of my life that it's a huge part of my identity. And I struggled when I realized it was time to move on. Because it's been such a large part
of who I am and a crucial piece in my development as a professional social worker, it feels weird to step away and into a new role.
Before going into social work, it was hard for me to find satisfying work and stability in my life. I always say that the choice to become a social worker was absolutely the most important choice of my life. When long time NASW-CA Executive Director Janlee Wong retired last year, I joked that I was ready to retire as well. I was, but only from NASW-CA. It was at that time that I started to consider what I wanted next for my social work career.
As social workers, we have the option to shift around and to experiment with new roles. And we should do this. We should try new things. We should keep things fresh. Five to ten years is a perfect time to stay with one role. While I know that some social workers do find a perfect niche they want to stick with for a long while, I can't say this is the norm. And really it shouldn't be. Feel free to explore, to step out of your comfort zone, and try something new. It's a great big world out there! Hope to see you out there in the field.
S. Jolene Hui, LCSW, is NASW-CA's Director of Membership and will be leaving her role at the end of the year. She is also part-time adjunct faculty in the MSW program at California State University, Dominguez Hills where she is a generalist year field liaison. She is a commissioner for the city of Long Beach where she serves as Vice Chair of the Homeless Services Advisory Committee. She can be reached at shui@csudh.edu.