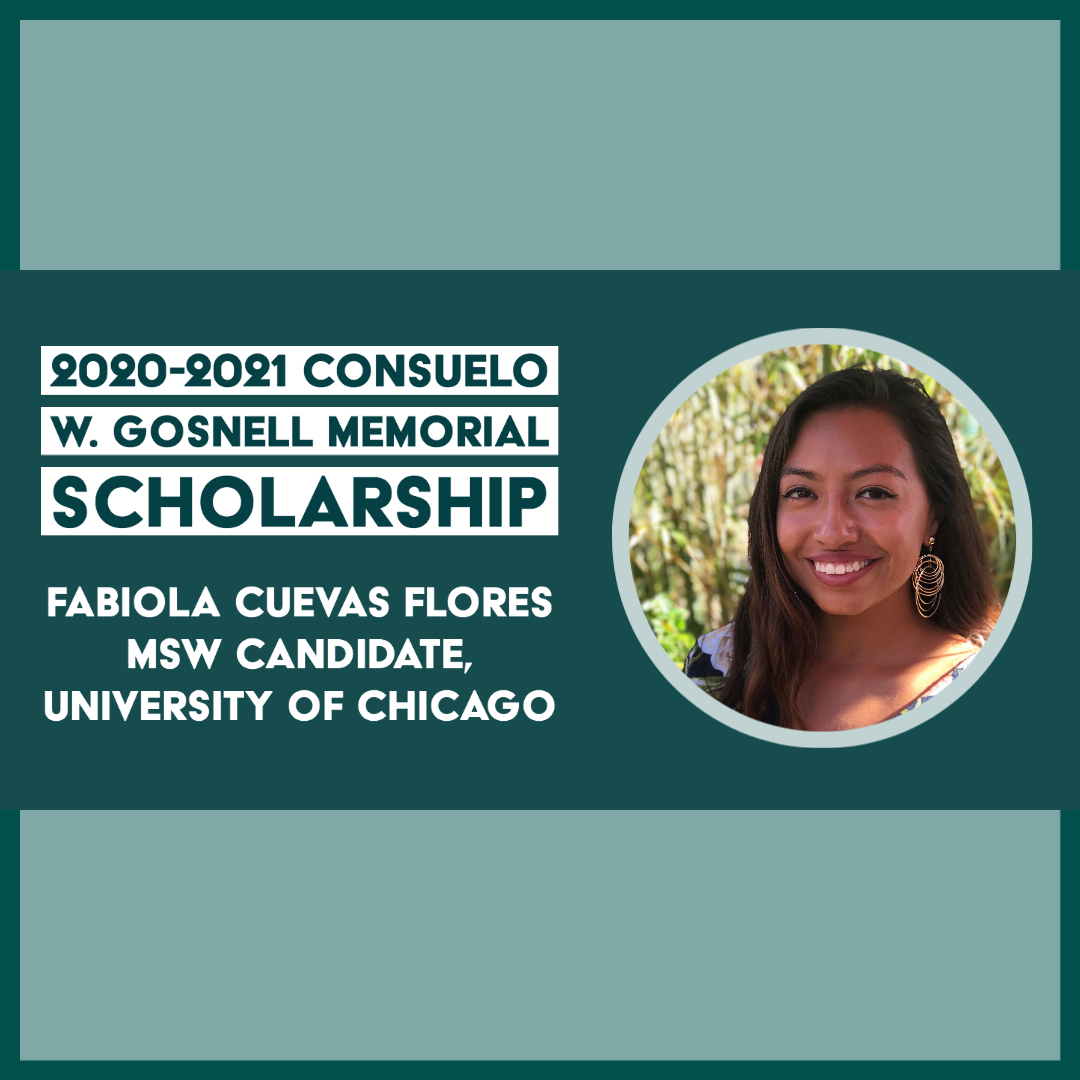 Fabiola Cuevas Flores was recently awarded a 2020-2021 Consuelo W. Gosnell Memorial Scholarship by the NASW Foundation
Fabiola Cuevas Flores will begin an MSW program at the University of Chicago in the fall of 2020. As an undergraduate student at UCLA, Fabiola majored in psychology and double minored in Chicana/o Studies and Applied Developmental Psychology. At UCLA, she also worked as a college advisor supporting Latinx youth in Pasadena, CA and was on the executive board for UCLA's chapter of Ignite, a national organization that empowers women to become politically active. Through these experiences and her own experiences as a Latina and DACA recipient, Fabiola's passion for social work grew. She plans to utilize the knowledge she gains through UChicago's MSW program to address the school to prison pipeline that pushes Latinx youth into pathways society has unjustly created for them. The Consuelo W. Gosnell award will make it possible for her to relieve some financial worry and focus fully on becoming the best social worker she can be. She is immensely grateful for the opportunity this award has provided her.
Consuelo W. Gosnell was a champion of civil and human rights and worked diligently to improve conditions for critically under served American Indians and Latinos in the Southwest. She practiced for many years in federal agencies, including the U.S. Department of Health, Education, and Welfare and the Bureau of Indian Affairs.
The Consuelo W. Gosnell Memorial Scholarship is awarded to master's degree candidates in social work who have demonstrated a commitment to working with, or who have a special affinity with, American Indian/Alaska Native and Hispanic/Latino populations. Candidates who have demonstrated a commitment to working with public or voluntary nonprofit agencies or with local grassroots groups in the United States are also eligible.
To learn more about the Consuelo W. Gosnell Memorial Scholarship: https://www.naswfoundation.org/Our-Work/Scholarships-Fellowships-Awards/Scholarships/Consuelo-W-Gosnell-Memorial-Scholarship
Submitted by S. Jolene Hui, MSW, LCSW, NASW-CA Director of Membership