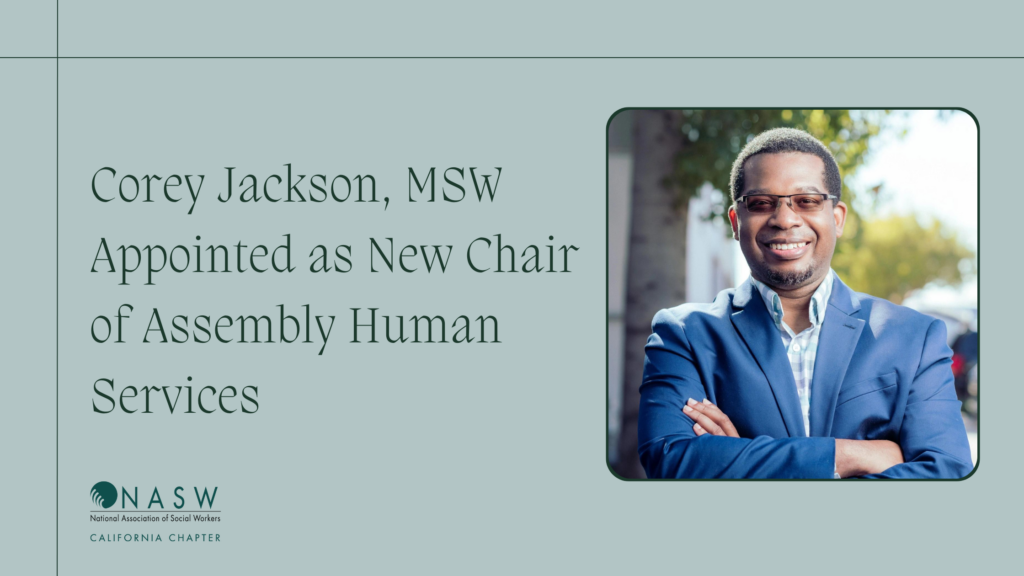 NASW-CA is thrilled to learn that Corey Jackson, MSW has been appointed as the new Chair of Assembly Human Services!  
The Assembly Human Services committee jurisdiction includes: 
Child welfare services
Foster care
Child care
Adoption assistance
CalWORKs
CalFresh
Developmental disability services
In-home Supportive Services (IHSS)
Community care licensing
Adult protective services
SSI/SSP 
The Assembly Human Services committee oversees legislation that impacts the most vulnerable Californians. It is gratifying that a social worker, who by training and education has a unique understanding of the obstacles faced by these communities, has been appointed Chair of this crucial legislative committee. Corey Jackson is in the position to ensure the Assembly Human Services committee passes legislation that is well-crafted and is designed to improve the lives of those impacted. 
We are excited to see social workers in elected office who can incorporate social justice in their work, influence the practice of social work, and engage in systemic change. NASW-CA will work closely with Assemblymember Corey Jackson, MSW, to work on policy that improves the well-being of our most marginalized communities.