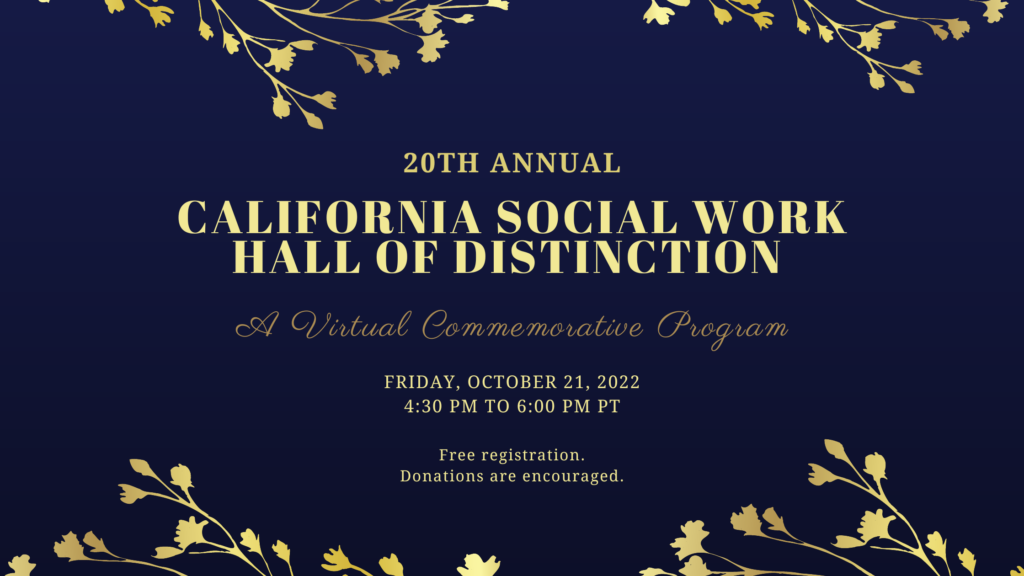 The California Social Welfare Archives (CSWA) is pleased to announce the 20th Anniversary Celebration of the Social Work Hall of Distinction. To date, we have inducted 135 extraordinary individuals who have made exceptional contributions to social welfare and the social work profession. Rather than our traditional induction ceremony, this year's program will be a video montage of past inductees sharing memorable moments. This special event will highlight and honor the service, commitment, and contributions of California social workers who have been inducted into the Hall of Distinction to date.
The retrospective celebration is free to all who register. 
We are asking for your support of the ongoing work of CSWA and the Hall of Distinction to archive historical records of health and social welfare organizations, collect oral histories of prominent individuals, and honor colleagues for their contributions. To commemorate the HOD's 20th Anniversary, please consider making a donation of $20.00 or more here. The goal is to raise a total of $20,000. All contributions will be matched up to $10,000 by the CSWA Board and the HOD Committee members.
Please share this opportunity with friends and colleagues! We are excited to celebrate and honor social work together.
Registration closes October 19, 2022. 
Please contact California Social Welfare Archives at cswa@usc.edu with any questions.