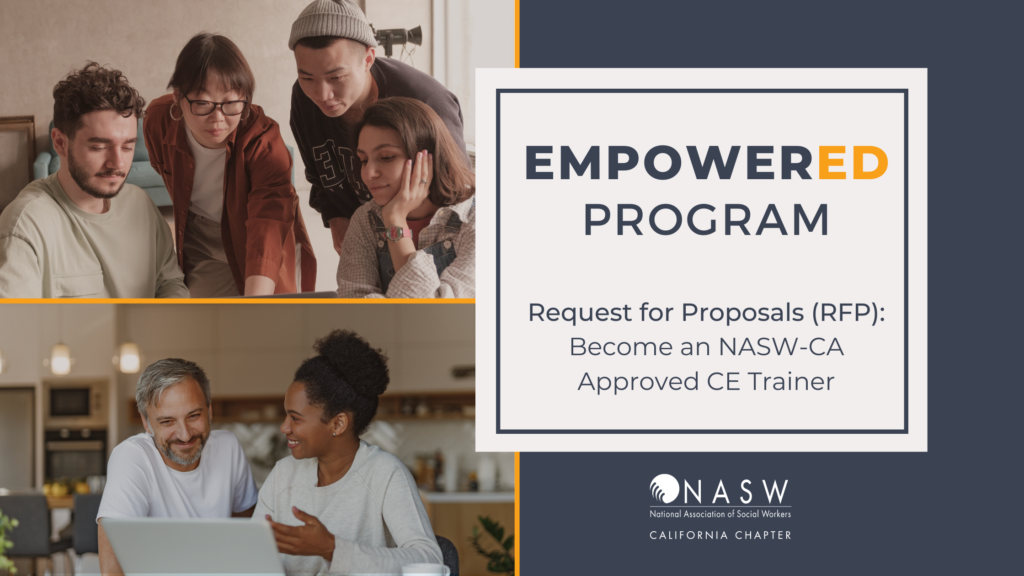 The NASW-CA EmpowerEd Program warmly invites qualified social workers (defined by those with social work degrees from CSWE accredited universities) and other mental health professionals (e.g. licensed marriage and family therapists, licensed professional clinical counselors) who have extensive experience teaching and providing trainings to become an NASW-CA approved Continuing Education trainer!
CE educators work with NASW-CA in offering relevant and innovative workshops on a variety of topics that are of interest to NASW-CA members and the larger community of micro-, mezzo-, and macro-level practitioners. Becoming an NASW-CA approved CE educator helps elevate social work practice, the diverse leaders who are at the forefront of evidence-based change, and those who are actively engaged in and leading social movements in clinical and advocacy initiatives.
As an NASW-CA approved CE educator, accepted proposals will be integrated into EmpowerEd programming. Trainers will also have the opportunity to publicize their biographies and links to their professional websites and profiles to further amplify their work, publications, and visibility. EmpowerEd's reach spans broadly as our site benefits from over 12,000 users each year. Interested in applying?
Applications will be accepted on a rolling basis. We strongly encourage and seek applications from people of color, including bilingual and bi-cultural individuals, those representing the disability community, veterans, as well as members of the lesbian, gay, bisexual, transgender, and queer communities. Thank you for your interest in joining us!
EmpowerEd Program Overview
For over 20 years, the NASW-CA EmpowerED Program (aka the Online CE Program) has been one of the largest providers of continuing education (CE) courses for social work practitioners and other mental health professionals in California and beyond. The program offers an extensive and diverse catalogue of courses that meet the pre-licensure and licensure renewal requirements set by the California Board of Behavioral Sciences. Known for high-quality text-based and mixed-media courses, the EmpowerED program expanded its programming in 2022 by launching live, virtual continuing education workshops, diversifying content, expanding its inclusivity of diverse trainers and educators, and deepening its embodiment of capacity building opportunities to assure professional development in all spheres of social work and behavioral health.