By Grecia Sanchez
Proudly sponsored by the NASW-CA Central Valley Unit in collaboration with the CSU Stanislaus MSW Program and Community Advisory Board, more than 60 social work professionals, students, and faculty members stepped away from their projects last Thursday, March 12, 2015 to celebrate Social Work Month.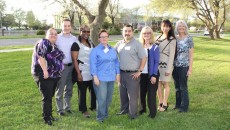 Also in attendance were CSU Stanislaus President Joseph Sheley, Provost James Strong, and Dean of the College of Education, Kinesiology and Social Work, Dr. Oddmund Myhre. They gathered to take part in an inspiring event, featuring Assemblymember Susan Eggman, in celebration of social work month.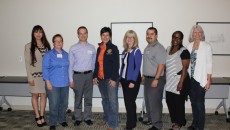 An aura of excitement filled the room as Assemblywoman Eggman spoke with candor, humor and humility. Her inspiring phrase, "Relationships, service, justice," describes how her identity as a social worker impacts her approach to serving in public office. For many in the room that phrase will continue to resonate in our hearts far beyond the month of March as a reminder that our combined efforts contribute to social justice and are valued by our community.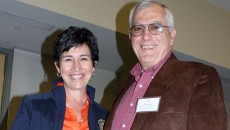 Assemblymember Eggman, who is an alumna of the Stanislaus MSW Program, described her path to public office. She noted that it is important to utilize all of the experiences and obstacles we encounter in life to inform our work. These are key elements that empower us to be authentic and help us to recognize and build upon strengths. She stated that the basic social work skills of engagement, assessment, intervention and evaluation are the same ones she uses in public office. With a smile on her face, she received a Stanislaus State sweatshirt and a framed tile as a token of appreciation for her presence.
This was a refreshing opportunity to stop, take a deep breath, self-reflect, and appreciate ourselves and our colleagues as change agents in our communities. This event was in honor of all of us who inspire, empower, and create change. The work that we do is courageous.
Happy Social Work Month!
Photo captions:

Photo 1: CVU Planning Members: Joella Brewer, Andrew O'Neill, Wambui Wainaina, Jen Johnson, Juan Villa, Kathy Sniffen, Grecia Sanchez, Liz Breshears

Photo 2: S. Eggman & CVU 2: Grecia Sanchez, Jen Johnson, Andrew O'Neill, Assemblymember Susan Eggman, Kathy Sniffen, Juan Villa, Wambui Wainaina, Liz Breshears
Photo 3: Assemblymember Susan Eggman and Dan Souza