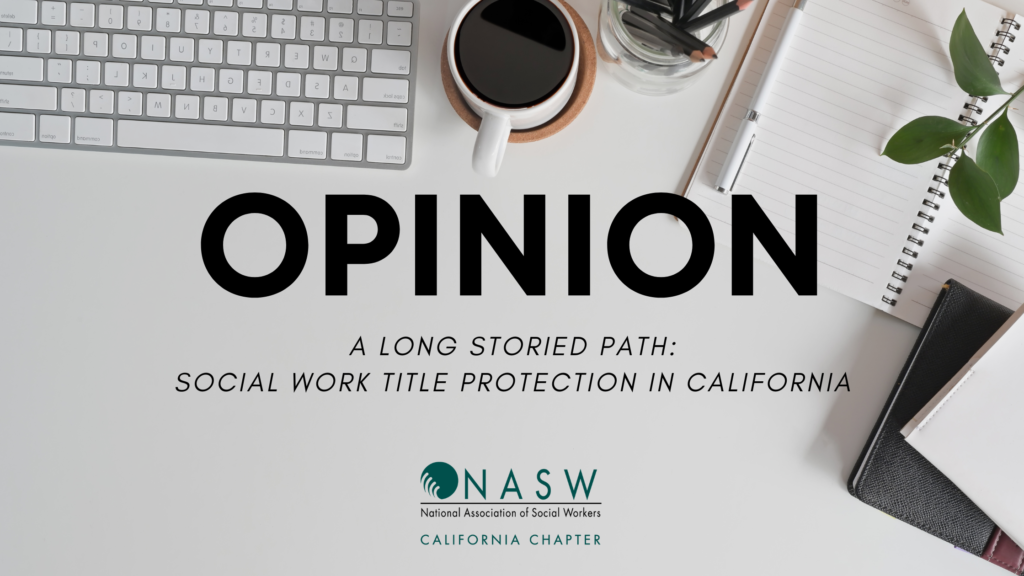 While we are proud to feature opinion pieces from our members and colleagues in the field, be advised that opinions and advertisements shared by NASW-CA do not necessarily reflect the views of the National Association of Social Workers, CA Chapter.
Brian Kaufman, LCSW 
Chair, Social Work Occupational Council
bkaufman.nasw@gmail.com
naswcaswoc@gmail.com
Since there is another Title Protection bill pending in the state legislature (SB 766), I feel it is appropriate to take a step back and go over the journey we have taken in the quest to pass title protection for social workers in California. I have a unique perspective on this given that I have been involved in one way or another with nearly all the versions of title protection bills that have been before the state legislature over the past 20 years. 
The need for social work title protection has been thoroughly documented over the years. Just as recently as last year, then NASW-CA intern, Jonathan Goh (2022), wrote an excellent article for the NASW-CA news summarizing all the key points. But ultimately, what the fight has always been about is jobs. We always want to make sure the jobs that use the title of "social worker" are held by social workers with the right education and training. In other words, those that have a BSW or MSW from an accredited school, and not a degree in psychology or counseling or art history for that matter.
A History of Title Protection
The story of title protection begins at the very founding of NASW itself and one of its earliest fights to establish professional licensure for social workers. During long discussions over how best to establish licensure in California, there were passionate debates about what people were then calling "title restriction" (Cassidy & Bullard, 1961).
Licensure for clinical social workers was established in 1967, replacing the antiquated registration system that had been in place since 1945. It marked the first state in the country to license social workers (Borenzweig, 1977). However, it only licensed the term "Clinical Social Worker". So that term was protected, and thus only those who have a license can use that term, but the term "Social Worker" was still not protected.
We now fast forward to 1997 with our first modern attempt at title protection with AB 949. A relatively clean bill that passed the Assembly and Senate but died in conference. It is not entirely clear why the bill stalled. What we do know is that there was opposition from this religious group known as the Church State Council claiming that the accreditation body CSWE would somehow unduly influence the curriculum and supplant their beliefs and teachings. Reading between the lines it has been suggested that they may have been referring to their views on LGBTQ+ identities.
The next attempt was AB 445 in 2003. It was a relatively simple and straightforward bill that made it past the Assembly, but stalled in the Senate.  This was largely due to the efforts of the County Welfare Directors Association. They claimed that the bill would incur significant costs to implement. Also, according to their perspective, without a grace period clause there was a possibility that many county workers would have to be laid off. So, any attempt in the future would have to address the cost issue and the workforce issue.
Next was 2008 with AB 2753. This was an attempt to avoid counties and just focus on state employed social workers. This one provided that the state cannot use the term "social worker" for any of its job classifications unless the person holding it has a BSW or MSW or DSW from an accredited school. It also included a grace period clause. It was a novel approach at the time, and for me personally it allowed me to advocate for it both as a social worker and as a union leader as my union, AFSCME Local 2620, came out in support. My union represents most of the clinicians employed by the state, of which a good percentage are social workers. We put together our own lobby days and sent a whole group of state social workers to Sacramento to lobby for this bill. State social workers enthusiastically supported this even though not a single state employee would have been affected by this bill. What ended up happening was that the bill was pulled due to a deal being struck with the Governor. It was agreed to fix the issue administratively rather than pass a law. It does not have the same force as a law would, but to this day it still remains on the books.
The next big effort was in 2013 with AB 252. We felt pretty emboldened this time given that two social workers, Yamada and Eggman, were joint sponsors of the bill. This time it was a lot more fleshed out with specifics and it included a grace period clause but there was still opposition. One surprising group was SEIU Local 721 that represented Los Angeles County workers including the vast majority of the non-degree social workers that would be affected by this bill. The grace period clause was not sufficient for them and the bill ultimately died in committee. 
It was then revealed that probably the biggest reason for AB 252 failing was the fact that Governor Jerry Brown likely would have vetoed it. He was not in favor of any title protection bill for any professional group as he believed that the market should decide that and not the legislature. This was confirmed in 2016 with AB 1279. This bill would have established title protection for music therapists in California. Since AFSCME Local 2620 represented state music therapists, I was tasked with helping to lobby this bill and to keep track of it. Astonishingly, the bill made it all the way to the Governor's desk where he promptly vetoed it as predicted. So, it was clear that for any hope of title protection to pass we would have to wait for a new governor.
Where are we now?
Now we come to SB 766, which is pretty much the same bill as AB 252 except that the grace period provision is only good until 2029 whereas in the other one it was indefinite. I am cautiously optimistic this time around given that all of prior opposing groups now have new leadership and we have a governor who is willing to sign a title protection bill. The evidence for this would be AB 1540 from 2019. The term "Board Certified Music Therapist" is now protected under California law.
Even if we are not able to pass SB 766, I am confident that someday it will happen. We now have 37 states with some form of title protection for social workers (NASW Connecticut Chapter, 2023) and it is only a matter of time until all will have it. Also, counties, municipalities, and private agencies are making efforts to use more generic terminology such as "mental health worker" or "case worker".
Even if that day comes when we do pass title protection there is still work to be done. Given the fact that the need for mental health workers is at an all-time high at the moment (Weiner, 2022), there will not any turf battles for the foreseeable future. Still, we must remain vigilant and guard against future attacks by continuing to clearly define what a social worker is and what a social worker does.
When I first became a social worker, so many years ago, the general public really did not understand what a social worker is and what a social worker does. Through this effort, and many other efforts over the years, the general public now has a little better understanding of what we do. Therefore, in a sense we may have already achieved some form of title protection.
Brian Kaufman is a Licensed Clinical Social Worker who currently works at Metropolitan State Hospital in Norwalk, CA and is an adjunct faculty with the University of Phoenix. He is also an active steward and former board member of AFSCME local 2620 and has served on multiple committees with NASW California. He is the co-founder and current chair of the Social Work Occupational Council.
---
References:
Borenzweig, H. (1977, May). Who Passes the California Licensing Examinations? Social Work, 22(3), 173-177.
Cassidy, E.S. & Bullard, M.M. (1961, Jan). The California Story. Social Work, 6(1), 56-65.
Goh, J. (2022, May 10). What is Title Protection and Why Does California Need Title Protection for All Social Workers? NASW-CA News. https://naswcanews.org/what-is-title-protection-and-why-does-california-need-title-protection-for-all-social-workers/
NASW Connecticut Chapter (2023). States with Title Protection. https://naswct.org/advocacy/title-protection/states-with-title-protection/
Weiner, S. (2022, Aug 9). A Growing Psychiatrist Shortage and an Enormous Demand for Mental Health Services. AAMC News. https://www.aamc.org/news-insights/growing-psychiatrist-shortage-enormous-demand-mental-health-services/