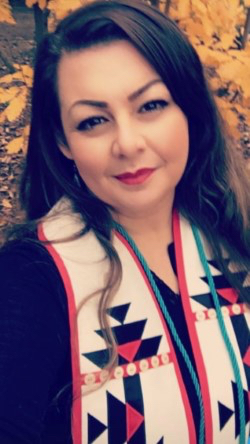 Kymberly Ketchum, MSW Candidate 2019, California State University, Sacramento
When did your social work career start?
My social work career began about eight years ago when I realized my passion for helping the youth affected by parental incarceration. Initially, I was introduced to the California Department of Corrections and Rehabilitation through a loved one who is currently incarcerated. I grew into a position of advocacy for inmates serving a life-term sentence. I was able to connect and empower men and women, help find their purpose and rediscover their worth.
What does the scholarship award mean to you?
This award, it was a personal confirmation that, yes, I am on the right path. I am able to be an example of a resilient indigenous woman who has overcome many obstacles. Lastly, without fear, I am able to speak of my trauma, addiction/recovery and educational success.
Are there any personal/professional accomplishments you would like to share?
I have started down a new path as a social worker, working with Native children within the foster care system and linking them with Native families. I am also developing community building activities to bring awareness to children affected by parental incarceration.
What goals do you have for your future in social work?
Somewhere down the line I would like to run my own transitional home for women in crisis.
Any other comments?
Thank you for this opportunity to shine.
Kymberly Ketchum, Sault Ste. Marie Tribe of Chippewa Indians #35624
The Birdwoman Scholarship is a monetary grant awarded to Native American/Native Alaskan master's or bachelor's social work degree candidates in California. Birdwoman Scholarship recipients in the past have worked or volunteered in both public and nonprofit agency settings.
Interested in applying for next year?
Applicants must be a member of NASW or join NASW to apply.
Graduate and undergraduate students must be enrolled in a Council on Social Work Education (CSWE) accredited school of social work in California.
If applying as an undergraduate, you must be in your senior year with a declared social work major.
If applying as a graduate student, you must be enrolled or accepted into a MSW program starting in the fall.
Previous scholarship recipients are welcome to apply again with the understanding that applicants with no history of receiving this scholarship will have priority.
Application Deadline: October 31, 2019
Please apply here: http://www.naswca.org/?page=NativeAmericanApp
Email all attachments or inquiries to membership@naswca.org
To become an NASW member: https://www.socialworkers.org/join/?WebsiteKey=b350ee4f-61b2-422f-88e1-7ee5f718de56